Europe > Germany > Eisenach > Luther House
Luther House
Lutherhaus Eisenach
From: Eisenach, Germany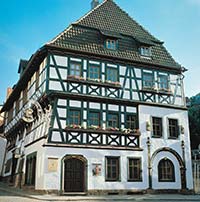 ABOVE: Martin Luther lived here from 1498 to 1501. The half-timbered house is now a museum.
By Durant Imboden
Martin Luther's 300-day sojourn in Wartburg Castle gets more press, but long before he escaped to his hilltop refuge at the beginning of the Reformation, Luther spent three years in Eisenach as a teenager. He came to the town in 1498, at the age of 15, to study Latin; during that time, he boarded with the family of Alderman Cotta.
In 1898, a "Lutherkeller" restaurant opened in the Cotta house, and tourists could see two "Luther Rooms" (where the young Latin scholar lived) upstairs. The Luther Rooms were expanded into a full-fledged museum in 1956, with exhibits that range from costumed mannequins to paintings and interactive video screens.
In size and scope, the Lutherhaus Eisenach is no match for Wartburg Castle or the nearby Bachhaus Eisenach, but it's a pleasant small museum that costs only a few euros to visit.
If you have even a slight interest in Martin Luther and the Protestant Reformation, we recommend that you allow 45 minutes or an hour for a visit to the Luther House. And if you're a Lutheran pilgrim, the museum and its "Luther Rooms" shouldn't be missed during your tour of Luther cities.
---
Visitor information: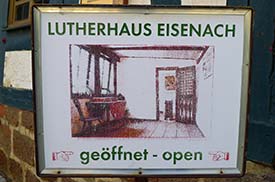 ABOVE: The Lutherhaus Eisenach is easy to find: Just look for the sign on Lutherplatz.
Normal hours of operation. April - October: 10 a.m. to 5 p.m. Wednesday through Sunday, including holidays. November - March: 10 a.m. to 5 p.m. Tuesday through Sunday, except for a break from December 24th until early January.
Tickets. Admission fees vary, depending on whether you're traveling alone, in a group, or with children.
To check current hours and prices, see the the "Visitor Information" page of the English-language Lutherhaus Eisenach Web site.
Reaching the museum. The Lutherhaus is on the Lutherplatz, just south of the Markt and the Georgenkirche in Eisenach's town center. Look for the large white half-timbered house with a "Lutherhaus Eisenach" sign outside the entrance. See directions.
For bus options, see the local transit agency's German-language Wartburgmobil Web site.
Museum shop. A small shop in the Lutherhaus sells books (including an exhibition catalog), church supplies, greeting cards, and souvenirs.
---
More Lutherhaus photos: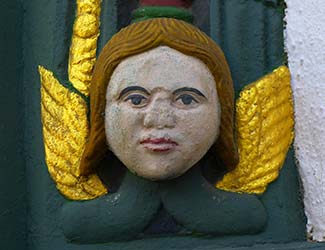 Before going inside the Lutherhaus, take a moment to admire the carvings on the house's façade.
---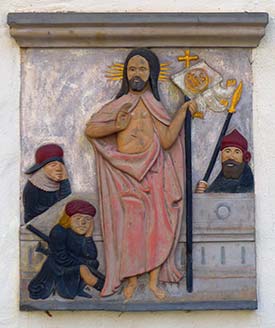 This nativity scene faces the Lutherplatz.
---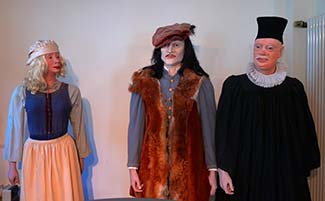 Exhibits inside the Lutherhaus include mannequins in late 16th and early 17th Century costume.
---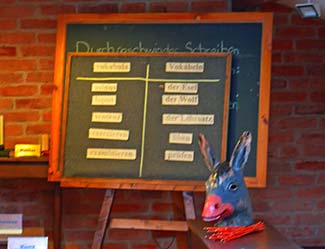 In the Luther-era schoolroom, a papier-mâché donkey's head plays the role of dunce cap.
---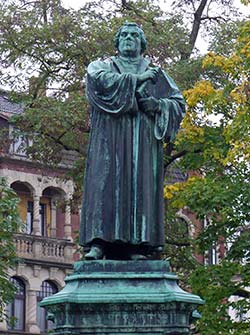 Eisenach's Luther-Denkmal, or Martin Luther Memorial, is a few blocks away from the Lutherhaus on the Karlsplatz.
As an adult, Luther spoke fondly of his teenage years in Eisenach and reportedly described the town as "meine Liebe Stadt" or "my dear city."
---
---
---
Top photo: Thüringer Tourismus GmbH / Barbara Neumann.