Münster Photos
From: Münster, Germany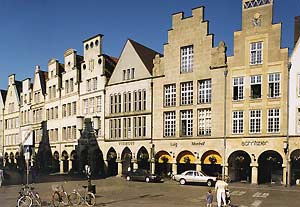 The Prinzipalmarkt or Main Market is the most celebrated street in Münster, with its traditional Hanseatic building fašades and arcaded passages. It's especially pretty at Christmas, when wreaths hang beneat the arcades and tiny lights illuminate the upstairs windows.
Most (though not all) of the houses were destroyed by Allied bombing in World War II. When Münster was rebuilt on the original medieval town plan, the city planners chose to restore the surviving buildings to their original appearance while requiring historically appropriate but simpler fašades on buildings that were rebuilt. This decision allowed the Prinzipalmarkt to keep its medieval ambience while differentiating between "real old" and "modern old."
The Prinzipalmarkt isn't just pretty: It's also the center of a thriving business district, with shops of every kind (both locally-owned stores and international retail brands).
---
---
---
Photo: Presseamt Stadt Münster