Europe > Germany > Münster > Stadthotel
Stadthotel Münster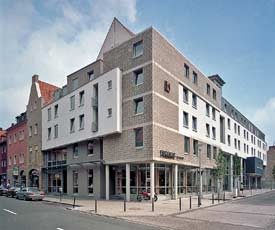 By Durant Imboden
Münster's Altstadt, or old town, has only a small number of hotels, mostly in the lower-priced categories. One centrally-located hotel that deserves attention is the Stadthotel Münster, which has a three-star superior rating and offers modern comforts in a location that's handy to sightseeing and shopping.
Don't be put off by the hotel's boxy, angular façade: Inside, the Stadthotel is an attractive, comfortable hotel in a style that might best be described as "Teutonic modern." And while the hotel caters heavily to business travelers, it's popular with leisure guests--especially on weekends, when special packages are available.
The Münster Stadthotel's 107 rooms come in three price ranges, with beds for one, two, or up to four guests. A restaurant and bar are on the premises, and there's even a chapel under the roof. An underground garage has 100 vehicle spaces, with a daily fee for parking.
Interesting side note:
The Stadthotel Münster was founded by the local Catholic diocese and Kolping, an international charitable organization named after Adolph Kolping, a priest who organized housing and other services for young journeymen in the 1800s. (It was called the Kolping Tagungshotel until 2006).
Today, the hotel--which was renovated in 2018--continues the tradition of offering free accommodation to the traveling journeymen called Wandergeselle when rooms are available.
For more information, including photos and reviews by paying guests, see:
More photos: