Europe > Germany > Münster > Photos
Münster, Germany
Page 9
Continued from page 8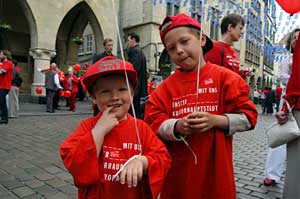 ABOVE: Two boys from Münster pose before the arcades of the central shopping district.
Münster photos
Here and on the following pages, we've provided assorted pictures from Münster with captions that include tourist information and, in some cases, Web links.
These images were supplied by the City of Münster's press office, which came to the rescue after we lost several hundred digital images that we'd taken with our own camera.
(A heartfelt Danke vielmals to the Presseamt Stadt Münster and to Claudia Ryll of Münster Marketing, who was a great source of advice and support during our visit to Münster.)