Europe > Germany > Rothenburg ob der Tauber > Links
Rothenburg ob der Tauber
Page 8
Continued from page 7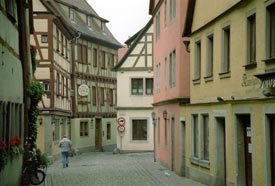 ABOVE: A street in Rothenburg ob der Tauber.
More Web links
Rick Steves Television Scripts: Germany's Romantic Rhine and Rothenburg
You may recognize this text if you've watched the guidebook author's PBS television show or travel videos.
Photos
Rothenburg ob der Tauber Pictures europeforvisitors.com
Our 58 photos are accompanied by captions.