Europe > Spain > Madrid > Hotels & rentals
Madrid, Spain
Page 6
Continued from page 5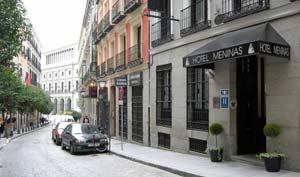 ABOVE: The Hotel Meninas Boutique Opera is on a quiet street near the Teatro Real (in background) and the Gran Vía.
Hotels
Like most big cities, Madrid has tens of thousands of hotel rooms in all price ranges, so you shouldn't have trouble finding a room if you book ahead.
Start by checking the Madrid hotel listings at our booking partner, Booking.com (Madrid), which often supplies rooms at lower rates than you'd get from the hotels themselves. Booking.com listings are accompanied by guest ratings and reviews. These are likely to be more trustworthy than the ones in "user review" sites like TripAdvisor and VirtualTourist, since they're written by paying guests. (See our article on Phony Hotel Reviews.)
Unless you're partial to taxis or public transportation, we'd strongly recommend booking a hotel in the historic center of Madrid. Many newer hotels are in the residential and office-tower districts north of the center, which are handy for business travelers but less convenient for visiting the major tourist sites.

Personal tips:
In the midrange category, we recommend the Hotel Meninas - Boutique Opera (see photo at top of page), which has a wonderful location just off the Plaza Santo Domingo. Its 37 soundproofed rooms are in a 19th Century building that was gutted and rebuilt as a stylish modern boutique hotel. (The knotty-pine staircase is original, however, as is the vaulted ceiling of the breakfast room.)
Finally, if you're in the market for a luxury hotel, we can recommend two: the Hotel Palacio del Retiro (next to the Retiro Park) and the InterContinental Madrid (on the Paseo del Castellana, in a high-rent residential and shopping district).
Another upscale hotel, ME Madrid Reina Victoria by Melía, is a good bet if you're a rock star or fashionista: The former Grand Hotel Reina Victoria has been reborn as a trendy hotel with a high-energy restaurant, a rootop nightclub, and an amazing Tower Suite overlooking the Plaza de Santa Ana in the city center.
Next page: Restaurants in Madrid