Europe > Spain > Madrid > Tourist information
Madrid, Spain
Page 11
Continued from page 10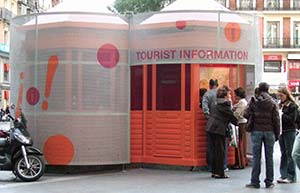 ABOVE: If you get lost, pick up a free map at the nearest Tourist Information booth. INSET BELOW: The Plaza de Mayor, home of the Madrid Tourist Board, and Madrid's ayuntimiento or city hall.
Tourist information

The main office of the Madrid Tourist Board is at Plaza Mayor 27, on the north side of the square. This tourist office is operated by the city of Madrid, and its multilingual Web site is at Esmadrid.com. (Don't miss the tourist office's guided tours in English, which may be the best travel bargain in town.) You'll find branch offices of the Madrid Tourist Board in the Chamartín railroad station and Terminal 1 of Madrid's Barajas Airport.
The Madrid Tourist Board also sells the Madrid Card and Madrid Card Cultura, which can save you money (and time) if you plan to visit museums, national heritage sites, and other attractions during your stay.

In addition to the main tourist office at the Plaza Mayor and the Tourist Information booths that are scattered about town, the city of Madrid operates a "Dial 010" information line for tourists and residents.
You'll also find useful coverage of Madrid at many independent Web sites. See Madrid Links: Other Resources to go exploring.
Finally, you can view our Madrid Map from Google if you aren't traveling with your phone.
Back to: Madrid - Introduction
Plaza Mayor photo copyright © Fundación Destino Madrid.