Europe > Spain > Madrid > Restaurants
Madrid, Spain
Page 7
Continued from page 6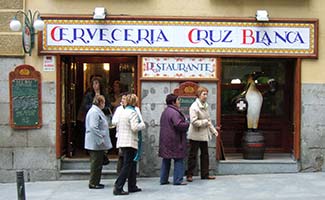 ABOVE: A tapas bar and restaurant in central Madrid.
Restaurants and cafés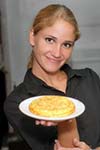 Madrid is an international city with restaurants of every type. My own favorite restaurant, when I lived in Madrid for three months in the late 1960s, was a friendly little neighborhood place where I dined on such traditional Iberian specialties as paella, tortilla espańola (potato omelette, shown in photo), merluza (hake), and--best of all--cordero asado, or roast lamb. Madrid is full of such restaurants, so don't be afraid to head off on your own and dine at places that aren't listed in guidebooks or on the Web.
Remember, too, that Spaniards--especially in Madrid--dine much later than is the custom in northern climes. Lunch is seldom eaten before 2:30 p.m. (3 o'clock is common), and 10 or 11 p.m. is considered a reasonable hour for dinner.

If you can't bear the thought of dining at a time that's normally associated with a Jimmy Kimmel or Stephen Colbert monologue, skip dinner and fill up on tapas or raciones at a cerveceria like the one in the photo at the top of the page. Or, better yet, keep your late-afternoon hunger pangs at bay with hot chocolate and churros at the Chocolatería San Ginés (review) or a coffee and pastry at La Mallorquina, where the ensaimadas are as good as the ones in Palma.
Some of the restaurants that I can personally recommend include:

Botin, just off the Plaza Mayor, which the Guinness Book of World Records has proclaimed the oldest restaurant in existence. Roasted meats are the specialties, and the house menu (available in the off-season) is a good value for a restaurant of Botin's reputation and quality.
Dominio de Antargü, Calle Ronda de Atocha 16, a few blocks southwest of the Museo Reina Sofia and the Atocha railroad station. The ground floor and part of the upper floor are a wine shop; also upstairs is a small, stylish restaurant with excellent Spanish food that complements the vast assortment of wines. This is a "don't miss" restaurant for oenophiles.
Restaurante La Catedral, Carrero San Jerónimo 16, a cheerful restaurant-bar where you can order raciones (plates of appetizers) or traditional lunch and dinner specialties like cordero asado (suckling pig) or the tasty cordero asado (roast lamb), which is served in a sizzling earthenware dish with French-fried potatoes.
Taberna del Alabardero, between the Royal Palace and the Teatro Real opera house, which serves Basque and Spanish cuisine with an emphasis on tapas. (See Frommer's review.) If you're traveling with companions, order a selection of raciones and share.

Artemisa, a vegetarian restaurant with two locations. I dined at the Ventura de la Vega branch (near the Sevilla Metro stop), where the appetizer--a huge platter of lightly breaded and delicately sautéed eggplant slices on a bed of salad--was big enough for a meal. I washed it down with an organic beer called Ökokrone. (Note: Since 2016, Artemisa has been 100% gluten-free.)
Museo del Jamón ("Museum of Ham"), a combination charcuterie, bar, and restaurant with more than half a dozen branches in Madrid. Prices range from modest to moderate, depending on what you order, and you'll save a few euros if you eat in the bar instead of the sit-down restaurant or salon. (This isn't a restaurant for vegetarians; its decor features more hams than an American Idol audition.)
For links to more gastronomic information and reviews, see Madrid Links: Restaurants and Dining.
Next page: Entertainment
Waitress photo copyright © Juan Monino.
Churros photo copyright © Fundación Destino Madrid.