Europe > Spain > Madrid > Transportation
Madrid, Spain
Page 10
Continued from page 9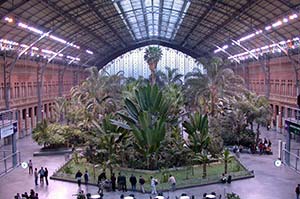 ABOVE: The tropical garden in Madrid's Atocha railroad station. INSET BELOW: Terminal 1 of Barajas Airport.
Transportation

Air travel. Most passengers fly into Madrid Barajas Airport (MAD), which is 12 km (8 miles) from the city center. The airport has four terminals that are served by dozens of airlines. (Note: Aena, the airport's operator, changes Web URLs almost as frequently as airlines change their flight timetables, so see Wikipedia's Barajas Airport article if the link above isn't working.)
Ground transportation includes the Metro (see below), taxis (about 25 euros from the city center), and the door-to-door shuttle vans (about 10 euros from the city center). The Metro takes about 40 minutes to downtown with one or two train changes; the Aerocity shuttle takes about the same time, depending on traffic, but is more convenient than the Metro when you're traveling with bulky luggage at rush hour.
Railroads. Madrid has two long-distance railway stations: Charmartin, in the northern part of the city, handles traffic from the north and east, including France. The popular Lisbon-Madrid Night Train arrives and departs at this station, which has frequent and quick local train connections to:

The Atocha railroad station (inset photo), on the southeastern edge of the city center, serves much of southern and western Spain. It's also the terminal for high-speed AVE and Alvia express trains between Madrid and Seville and other parts of the country. Some trains stop at both stations, so check timetables and your tickets if you're uncertain where you'll arrive or depart.
Long-distance buses. Eurolines connects Madrid with cities throughout Europe, with buses arriving and departing at the Estación Sur de Autobuses in the southeastern part of the city. (You can reach the city center by Metro from the Méndez Alvaro stop on the #6 circular line.) A few smaller bus lines use their own stations; see Gomadrid's transport page for station addresses.
Arriving by car. Madrid is in the center of Spain, so it's easy to reach by motorway from nearly any direction. Use ViaMichelin to plan your driving trip. Once you've arrived, you'll need to park (which can be tricky in the city center), so consult with your hotel beforehand and rely on public transportation once you're in town.
Local transportation:

Underground. Madrid's Metro is quick, efficient, clean, safe, and cheap, with more than 200 stations on 12 numbered and color-coded lines. The network operates from 6:30 a.m. until 1:30 a.m., and you'll seldom have to wait more than a few minutes for a train. The Metro Madrid Web site is in Spanish, but the plano (map) doesn't require translation, and the self-service ticket machines in the Metro stations are multilingual and easy to use.
Public buses. The local bus network is run by EMT Madrid. Buses operate from 6 a.m. until midnight.
You can buy a discounted 10-journey Bono from any Metro station or bus information booth, and it--like single-journey transit tickets--can be used for either underground or bus travel. If you plan to travel extensively by Metro or bus, consider buying a Tourist Travel Pass (Abono Transportes Turístico), which permits unlimited travel for 1, 2, 3, 5, or 7 calendar days. (Get the cheaper Zone A version unless you plan extensive suburban travel.)

MadridVision buses. These "hop on, hop off" double-deck sightseeing buses operate on two routes: "Historic Madrid" (the city center) and "Modern Madrid" (the neighborhoods north of the center where many upscale chain hotels, office buildings, and shopping malls are located).
TheMadridVision buses won't take you anywhere that you couldn't reach by public transportation--or, in the case of historic Madrid, on foot--but if you're on a tight schedule or want to minimize walking, they can be a good value. (You can ride MadridVision buses free with the Madrid Card; the Madrid Card Cultura provides a 10% discount.)
Next page: Tourist information