Europe > Germany > Munich > Allianz Arena tours
Allianz Arena Tours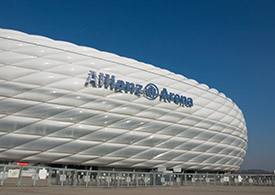 ABOVE: The Allianz Arena in daytime. INSET BELOW: At night, the stadium is illuminated in white, red, and/or blue, depending on the match schedule. (FC Bayern's color is red; TSV 1860's color is blue.)
By Durant Imboden

Of all the football stadiums that were built or refurbished for the 2006 World Cup in Germany, the Allianz Arena in Munich is probably the most spectacular.
The soccer stadium, designed by world-renowned architects Jacques Herzog and Pierre de Meuron of Basel, Switzerland, has a skin of 1,056 fire-resistant membrane "cushions" that are illuminated from behind by 25,344 lights.
At night, the entire stadium glows white, red, blue, or in three alternating colors, depending on whether a match is taking place and which of the two home teams is playing: FC München (red) or TSV 1860 (blue).
The arena is nearly as impressive inside, with 69,901 seats arranged in steep banks to bring spectators as close as possible to the action.
Seats are protected from the weather by a partial roof that admits sunlight and leaves the natural-grass pitch open to the sky.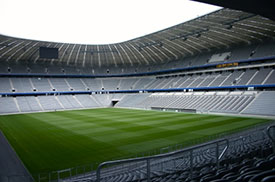 ABOVE: The interior of Munich's Allianz Arena on a tour day.
On days when no matches are scheduled, you can take a 75-minute Arena View tour (with admission to the FCB Museum) for a modest fee.
The tour includes a film about the construction of the arena, followed by visits to the players' dressing rooms, the player tunnel, the press club, commentators' positions, seating areas, and private boxes.
If you wish, you can buy FC Bayern merchandise at the team's fan shop after the tour.
The tour schedule varies, and published tour times aren't always observed, so check the "Tours & FCB Museum" page at the Allianz Arena Web site and book a tour online to avoid a wasted trip to the city's outskirts.
Tip:
On your way back into town, get off at the Münchner Freiheit U-Bahn station to explore the lively neighborhood of Schwabing and the English Garden, which is Munich's version of Central Park or Hyde Park. Afterwards, you can continue on foot to the city center.