Europe > Germany > Munich > Oktoberfest
Oktoberfest
Munich, Germany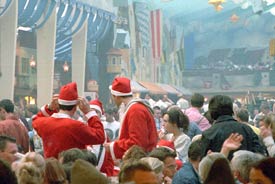 ABOVE: Two St. Nick wannabes get an early start on their Christmas spirits at Oktoberfest in Munich, Germany.
By Durant Imboden
Munich's Oktoberfest is justly renowned as the world's largest kegger, but it's far more than a beer bust. The annual 17-day festival offers some 200 sideshows, carnival rides, and other amusements, so you'll find something to do at the Wiesn (as the Oktoberfest grounds are known) even if you're a teetotaler who disapproves of vomiting as public recreation.
Still, there's no doubt that suds are the liquid centerpiece of Oktoberfest, which traces its origins to a wedding celebration for Ludwig I of Bavaria and his bride in 1810.
In a typical year, Oktoberfest will attract some 6 million vistors who collectively down approximately 6 million liters (1.5 million gallons) of special Oktoberfest brew. That's a lot of beer, even when diluted by 87 spit-roasted steer, 459,259 roasted chickens, and 219,405 pairs of sausages.
Most of the serious guzzling takes place in 14 beer tents, or festival halls, which offer tables and seating for 100,000 patrons.
Six of the tents are operated by Munich breweries, and each of the 14 has its own unique character--from the relatively intimate 3,400-seat Hippodrom to the 9,300-seat Schottenhamel, where the mayor of Munich cries "O'zapft is!" as he taps the first keg of beer on the opening day of Oktoberfest.
---
My evening at Oktoberfest:

ABOVE: Hippodrom is the smallest beer hall at Oktoberfest, with tables for 3,400 guests. It attracts a youthful crowd and is popular with German film and TV celebrities.
I've never been a fan of loud parties, large crowds, or hangovers, so I made a point of avoiding Oktoberfest (and Munich during Oktoberfest) until last year, when the marketing staff of Munich International Airport invited me to join a small group of journalists for an evening at the Hippodrom beer hall.
I dutifully met my colleagues at Munich's main railway station in the late afternoon; from there, we followed the crowd to Wiesn, which was about a 20-minute walk from the station.
The grounds were mobbed when we arrived, and the atmosphere was best described as "state fair meets Bavarian fraternity party." Many of the locals were in traditional costumes, which Müncheners often wear to work--not just to the fairgrounds--during Oktoberfest.
Fashion tip from a female Munich resident: If you're going to display cleavage with a Bavarian peasant blouse, remember to pack your Wonderbra.
The crowds were well-behaved, for the most part, with unruly drunks in the minority. This may have been the result of good policing: Cops and security guards were everywhere, and drunks who got out of hand were hauled to "sobering up" tents, locked in detention cells, or expelled from the grounds.
We wandered around for an hour or so, peeking into tents and checking the sideshows and souvenir booths, until it was time to claim our reserved table in the Hippodrom.
The so-called "beer tent" turned out to be a solidly built hall with a vast main floor, a balcony surrounding the perimeter, and an elevated band platform where German oompah music alternated with German pop hits and American oldies. (You know you're living in a global economy when you hear several thousand beer drinkers singing John Denver's "Country Roads" in a host of European accents.)
For the next several hours, we swilled liters of potent Märzen beer and gorged on Bavarian specialties such as pretzels, radishes, Obatzda (a spiced appetizer of cheese, quark, and butter), duck, chicken, sausages, and--for dessert--Kaiserschmarren, or pancake slices with raisins.
Every so often, the band would lead the crowd in a chorus of "Ein Prosit der Gemütlichkeit," which resulted in much glass-clinking at our own table and with the friendly group of Romanians at the table behind.
When we finally left the Oktoberfest grounds between 10 and 11 p.m., many other fairgoers were also on their way home.
As we took the S-Bahn back to our hotel at Munich International Airport, we saw police lined up on the downtown station platforms to make sure that tipsy passengers stayed on their homebound trains.
Important tip for the tipsy: Make sure that you're traveling with a teetotaler--not just to keep from getting lost on the way to your hotel, but also so you won't be like the unfortunate man who fell off a station platform and lost his legs under an S-Bahn train during one recent Oktoberfest.
---
Planning your trip to Oktoberfest: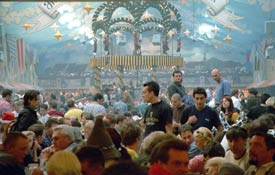 ABOVE: Oktoberfest's "tents" are huge prefabricated structures that accommodate thousands of beer drinkers.
When to come. Oktoberfest takes place from late September until early October. Check the official Web site, Oktoberfest.de, for currently scheduled dates.
Tip: Visit on a weekday (the earlier in the day, the better) to avoid the most crowded times. On weekends, it may be impossible to get into a beer tent without a reservation.
When to book. The earlier, the better. Hotel rooms are in short supply during Oktoberfest, but don't let that stop you from coming: You can easily take a train into the Munich Hauptbahnhof (main railway station) if you're unable to book a flight or a hotel room.
How to reach the Wiesn. Don't even think about driving, because the Munich police will keep you from getting anywhere near the grounds. Instead, walk from the city center or use one of the many forms of public transportation available in Munich: U-Bahn, S-Bahn, bus, tram, or taxi.
Another possibility, if you're coming from outside Munich, is to book an excursion through a local travel agency.
---
Oktoberfest Web links: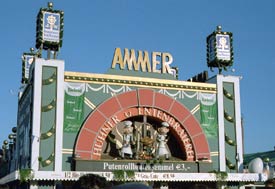 ABOVE: Chickens and ducks are the specialty of Ammer (see link below), which claims to have invented the electrically powered roasting spit in 1885.
Oktoberfest.de
The official Oktoberfest Web site is loaded with useful information, but only in the last few months before the festival.
Munich Beer and Oktoberfestmuseum germanyforvisitors.com
Learn about the history of beer, Munich's breweries, and the world's largest beer bust. (Don't miss the Museumsstüberl; you can buy a voucher for a beer and a snack with your admission ticket.)
The Ultimate Guide to Oktoberfest
Marion Kummerow's 72-page book describes the various beer tents, tells how to make reservations (or how to get in without a reservation), and more. It's available in Amazon Kindle e-book format or as a paperback.
Hühner- & Entenbraterie Ammer
"The oldest roastery in the world" serves up chicken, duck, and beer in Oktoberfest's second-0ldest tent.
Tip:

If you'd rather spend your money on beer than on a hotel during Oktoberfest, sleep at Wies'n-Camp in the Olympic Horse Stadium or The Tent (Kapuzinerhözl) near the Botanical Garden.
---
Munich tourist information:
Munich germanyforvisitors.com
These 20 pages of photos and annotated links for the Bavarian capital include 8 pages of information about Munich hotels, hostels, and other places to stay.
Munich International Airport germanyforvisitors.com
Europe's 8th largest airport is in the heart of the most popular German tourist region. It's also a gateway to Austria's leading ski areas.
---
More Oktoberfest photos: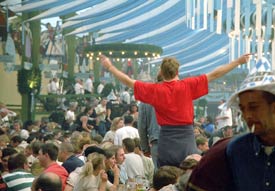 If you're going to direct a chorus of "Ein Prosit der Gemütlichkeit" from a tabletop, wear bright clothing so you'll be seen.
---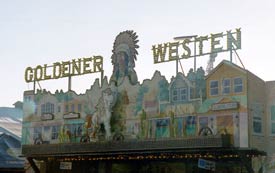 19th Century author Karl May inspired Germany's longstanding infatuation with the American Wild West, which inspired the decor at this Oktoberfest beer hall.
---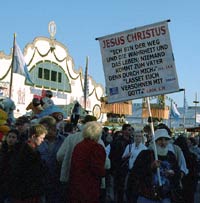 An evangelist preaches a Christian message to besotted souls.
---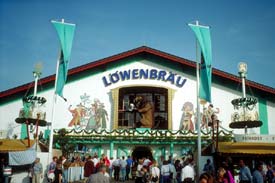 The Löwenbräu tent is popular with American visitors.
---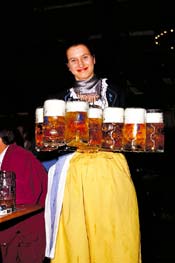 Tip the waitress, and she'll remember you when it's time for a refill.
---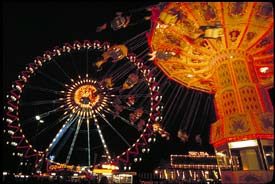 Beer drinking and carnival rides can be a toxic combination, so stand clear unless you're holding an umbrella.
---
---