---
Vélib' Bike Rentals
By Durant Imboden
Paris isn't usually known as a city of bicycles--or bicyclists--but Mayor Bertrand Delanoe is trying to change that perception. The Paris Mairie (City Hall) operates a Vélib' bike-rental program with thousands of three-speed unisex bikes at hundreds of stations or "service points" around the city. You'll pay €1,70 for a day ticket or €8 for a seven-day ticket, which lets you take an unlimited number of 30-minute journeys. Trips longer than 30 minutes incur small additional "usage charges."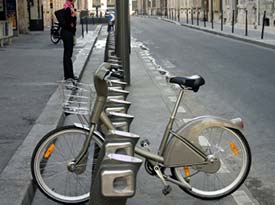 ABOVE: Vélib' bicycles for hire.
You can pick up a bike at any Vélib' station and return it at any other. Just to make sure you that don't keep it, you'll be required to supply credit-card information before taking a bike, and the bike will sound an alarm if you try to haul it back to Huddersfield or Hackensack.

Are you staying in Paris for a couple of months or longer? You can buy an annual Vélib' pass for €29 (30 free minutes per trip) or €39 (45 free minutes per trip). Various discounts are available for people between ages 14 to 26 and 16 to 25.
Non-francophones needn't worry: In addition to a multilingual Web site (see link below), Vélib' has instructions in eight languages at the bike stations.
Tips:
If you have a foreign credit card without an embedded microchip, it probably won't work in the Vélib' rental machines. Fortunately, there's an easy workaround: You can buy a 1- or 7-day Vélib' ticket on the Web.

Vélib' bikes are popular, and occasionally you'll find that all bicycles are rented. Less commonly, you may go to return a bike and find that all the available slots are occupied. (If this happens, try another station; they're scattered across the city and are usually no more than 300 meters apart.)
For more information about the Vélib' program in English, visit en.velib.paris.fr.
Also see the MP4 video excerpt from eČ, an environmental series from PBS.org, which shows Vélib' bikes in action and describes the program's planning and success. And finally, read this New York Times article about problems with vandalism that are threatening the system's viability.
Updated in January, 2017