Paris > Transportation > Bike sharing
Paris Bike-Sharing Programs
The French capital offers a variety of traditional and dockless bike options, including some that you may already use.

ABOVE: Three Vélib' Métropole bicycles stand next to a dockless Mobike on a Paris street.
Paris has had an official bike-sharing program since 2007, when Vélib' (now Vélib' Métropole) was introduced. Today, there are a number of bike-sharing programs in the French capital, and you can find plenty of mechanical bicycles and electrically-assisted e-bikes for "hop on, drop off" use around the city.
The major players are: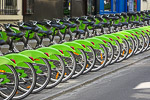 Vélib' Métropole parisforvisitors
The original Paris bike-sharing program has some 15,000 green (mechanical) and blue (electric) bikes at more than 1,200 stations in all 22 arrondissements. Although the stations have kiosks where you can buy passes and perform other tasks, the bikes themselves are self-contained, with dashboards for scanning cards and performing other trip functions.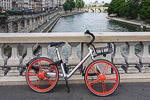 Mobike
You'll find these orange bikes in most popular tourist areas. They're dockless bikes that you unlock by scanning a QR code with the Mobike smartphone app. (Mobike now operates in more than 200 cities around the world, so you may already be using its bicycles.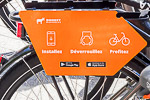 Donkey Republic
We've seen Donkey bikes mostly along the Seine. The company is based in Copenhagen, and its dockless bikes are operated via a Bluetooth connection to a Donkey Republic app on your smartphone.
Tips and a caveat:
The best bike-sharing program is likely to be the one you're already using. If you're a satisfied customer of Mobike or Donkey Republic, by all means stick with it when you're in Paris.

If you want to feel like a Parisian, Vélib' Métropole is a great choice. It has stations nearly everywhere in Paris, and it offers a choice of traditional bicycles and e-bikes. (You'll see all kinds of people on Vélib' bikes, including business people in suits with briefcases.) But read our article before signing up.

The bike-sharing industry has been in flux lately, and some of the best-known companies (such as Ofo) have crashed and burned. We can't predict which companies will still be in business during your visit, although it's a safe bet that Vélib' Métropole will remain a fixture on the Paris scene.