Paris > Boat cruises > Seine dinner cruises
Dinner Cruises on the Seine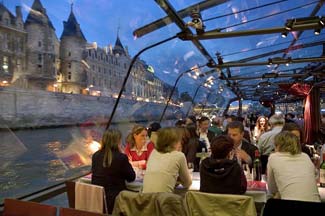 ABOVE: A Seine dinner boat passes the Conciergerie on the Île de la Cité.
---
The River Seine doesn't just flow through the heart of Paris--it is the heart of Paris, having supplied water, transportation, and food to the locals since Celtic fishermen of the Parisii tribe built a village on what is now the Île St-Louis more than 2,200 years ago. This means that a dinner cruise on the Seine might be viewed as a kind of historic pilgrimage, making the price of an expensive meal and boat ride easier to bear.
In this article, we'll tell you about Seine dinner cruises from six Parisian companies:
Bateaux Mouches
The best-known purveyor of Seine dinner cruises is Bateaux-Mouches, which we discussed (with other fleets) in our Paris Sightseeing Boats article.
Standard dinner cruises run daily year-round, with embarkation starting at 7:45 p.m., sailing at 8:30 p.m., and return to the Bateaux-Mouches pier by the Pont de l'Alma at 10:45 p.m. Several menus are available, with prices starting at €99 for adults. (Children pay less.)
A cheaper (and shorter) "early bird" dinner cruise features boarding at 5:30 p.m., departure at 5:50 p.m., and return to the pier at 7:15 p.m. Adult prices start at €79.
Lunch is available on weekends and holidays, with prices starting at €69.
Other options include "Crazy Horse" cruises, a "Get a Yes in Paris - Marriage Proposal" package, and special holiday cruises. For more information, visit the Compagnie des Bateaux-Mouches Web site.
Bateaux Parisiens
Several dinner options are available on the Bateaux Parisiens restaurant boats, with prices ranging from €69 to €595. (The highest prices are for Bastille Day, Christmas, and New Year's Eve cruises.)
Lunch is cheaper, starting at €59 and progressing up to €89 for a seat in the bow.
For details, including departure times, visit the Bateaux Parisiens Web site.
Vedettes de Paris
This company has replaced dinner cruises with a variety of bar and snack options on standard cruises. To check the menus or book a voyage, see the Vedettes de Paris Web site.
Croisière Paris
The relatively small and cozy Capitaine Fracasse offers a range of meal options, with adult prices from €41 for a cold brunch to €99 for a dinner with wine.
For more information, including special offers, visit the Croisière Paris Web site at www.croisiere-paris.com.
Marina de Paris
This company offers two dinner cruises each day.
The first dinner cruise departs at 6:45 p.m., arriving back at the quay below the Musée d'Orsay at 8:00 p.m. The base price for this cruise is €61 for adults and €35 for children from 4 to 10.
The second and longer cruise departs at 9:15 p.m. and returns to the quay at 11:15 p.m., with prices starting at €72 for adults and €35 for children.
You can also book lunch cruises, which depart at 12:30 p.m. and last 90 minutes. The base price is €42 for adults and €29 for kids from ages 4-10.
For a cruise itinerary and menus, see Marina de Paris.
Yachts de Paris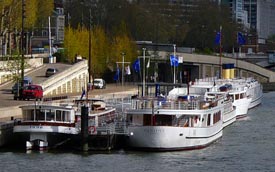 ABOVE: The Yachts de Paris fleet at Port Henri IV.
In addition to private business dinners, receptions, and other charters, Yachts de Paris offers dinner and tasting cruises aboard Don Juan II, a vintage motor yacht with only 15 tables. Offers vary by season. For details, visit the Don Juan II pages at the Yachts de Paris Web site.
---
---
About the author:

Durant Imboden is a professional travel writer, book author, and editor who focuses on European cities and transportation.
After 4-1/2 years of covering European travel topics for About.com, Durant and Cheryl Imboden co-founded Europe for Visitors (including Paris for Visitors) in 2001. The site has earned "Best of the Web" honors from Forbes and The Washington Post.
For more information, see About our site, press clippings, and reader testimonials.
---