Paris Sightseeing Boats (2020)
By Durant Imboden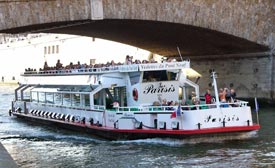 ABOVE: The tour boat Parisis of Vedettes du Pont-Neuf cruises under a bridge. INSET BELOW: Floodlights on a boat illuminate quays along the Seine.
Paris has been a river city since the third century B.C., when Celts founded the village of Lutétia on the Ile de la Cité. Today, the city's northern and southern portions are still described as the "Left Bank" and "Right Bank," and the Seine probably carries more river traffic today than at any other time in its history.

Of the many boats that ply the Seine, the most noticeable are the sightseeing boats of the Compagnie des Bateaux-Mouches, Bateaux Parisiens, Vedettes du Pont-Neuf, and other excursion fleets. These tour boats run from morning until late at night, carrying tourists past the city's quays and monuments like waterborne tour buses. Some companies offer lunch and dinner cruises (albeit at steep prices).
The Seine isn't the only Parisian waterway with tour boats: Two excursion companies, Canauxrama and Paris Canal, operate cruises on the St-Martin and Ourcq Canals, which run through the city's northeastern neighborhoods. Other Canauxrama and Paris Canal cruises include day trips on the Marne and the Seine.
For more information on the leading Paris sightseeing-boat companies, follow the "Next page" links or use the navigation table at the bottom of this page.
Our persnal favorite: