Paris > Practical advice > Maps
Paris Maps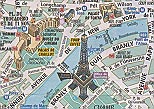 ABOVE: These excerpts from the free Paris tourist map of Paris show the Eiffel Tower (left) and the Ile de la Cité with Nôtre-Dame Cathedral (right).
By Durant Imboden
In a city the size of Paris, you need a good map--or, better yet, several. You'll find a huge selection of maps in Paris bookstores and department stores, but here are our favorites. (Several of them are free!)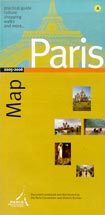 The Paris Convention and Visitors Bureau offers a free map of Paris that you can get at tourist offices, hotels, the Printemps department store (which sponsors the map) and in other places frequented by tourists.
The front of the map shows the city, with important monuments and museums identified by 3D drawings. Most streets are named, but there's no index, so you'll want to have an idea of where you're going before relying on the map.
The back of the map has maps of the Métro, RER, and bus systems, along with ads for various tourist services. The transit maps are quite small, though, and we'd recommend supplementing them with the free pocket-size RATP map of the public transportation network, which is free at any Métro or RER ticket window.
RATP also publishes a full-size transportation map, which is convenient if you're at an age when you need reading glasses.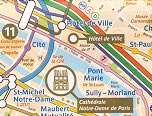 Another free RATP map, Paris Tourisme, superimposes Métro and RER lines on a background city map with icons for major tourist attractions. This makes it easier to see which line will get you to the Eiffel Tower, Nôtre-Dame Cathedral, Sacré-Couer, and other important sights.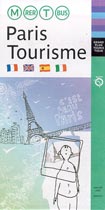 Look for these maps in racks at major RATP and railroad ticket offices, including service counters at airports.
Paris par Arrondissement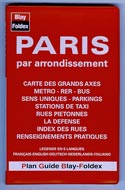 If you're going to be in Paris for more than a few days, invest in the Paris par Arrondissment street atlas from Plan Guide Blay-Foldex. This 132-page book has a sturdy plastic binding, a street index, and highly detailed maps of the 20 arrondissements or districts within the city of Paris. Other maps show the Métro, RER, bus and tram network, La Défense, the Bois de Boulogne, and the Bois de Vincennes.
Paris par Arrondissement is more convenient to use than a large folding map, and it fits into the pocket of a sport jacket or a purse. Just as important, the detailed neighborhood maps and street names are easy to read--even with middle-aged eyes--and Métro and RER stations are clearly shown (as are public parking garages for travelers who are adventurous enough to drive in Paris).
We bought our copy of Paris par Arrondissement at a department store, but you'll also find it at most Parisian bookshops.
Other maps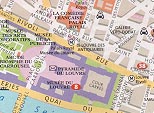 ABOVE: The Berlitz City GuideMap fits into a shirt pocket and has good coverage of the city center. It's available at US and British bookstores.
You'll find many other maps at Paris booksellers, department stores,and tourist shops tiny oregami-like maps that unfold from the middle and large street atlases that cover suburbs you'll never visit. (One of our favorites is Michelin's Paris Plan No. 55, which has a scale of 1:10,000, covers the entire city, and is very easy to read.)