Paris > Parks & Outdoor Spaces > Paris Plage
Paris Plage
"Paris Beach"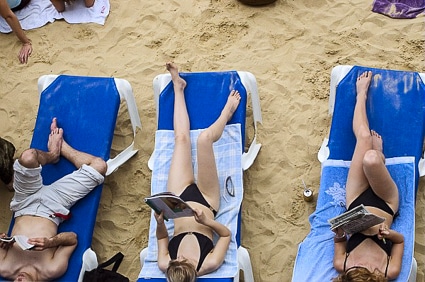 ABOVE: Sunbathers on the Quai de l'Hôtel de Ville.
By Durant Imboden

In the summer of 2002, the new mayor of Paris, Bertrand Delanoë, announced Paris Plage, or "Paris Beach," as a way to bring the seaside to his city's citizens.
The expressway along the Right Bank of the Seine was closed to cars, covered with nearly 2,000 tons of sand, and dotted with chaises longues, beach umbrellas, and palm trees. The Hôtel de Ville, or City Hall, also had a beach set up in front of its elegant neo-French Renaissance façade.
Over the years, Paris Plage has reappeared in a slightly different guise each July. The details may change, but every summer's beach production is true to the original concept: a refuge for city-dwellers who'd rather be at the seashore but are grateful for a few hours of recreation (and, with luck, sunshine) along the Seine.
Since 2007, a second Paris Plage has attracted parkgoers to the Bassin de la Villette in the northern part of the city, which is connected to the Seine by the Canal St-Martin. The Villette beach has pedalboats and other features that aren't available on the original riverside beach, but both versions of Paris Plage have plenty of sand, musical performances, sports, and other activities for visitors of all ages.
The Paris Plage season starts around July 20 each year, and the beaches remain open for a month. If you expect to be in Paris in late July through late August, bring your bathing suit and a beach towel, and prepare to join the crowd.
(Warning to streakers and gawkers: Topless bathing isn't allowed on the Paris Plage beaches; you're in the big city, not on the Côte d'Azur.)
More photos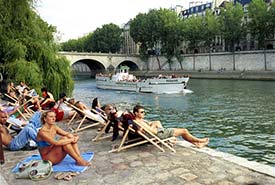 Parisians sunbathe along the Seine.
---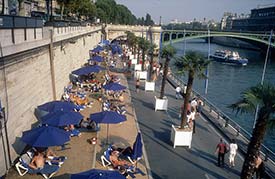 A roadway in the 4th arrondissement is turned over to beach umbrellas, palm planters, and sunbathers.
---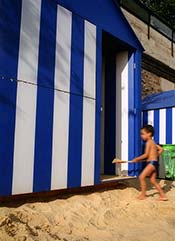 A boy shovels sand next to a beach hut.
---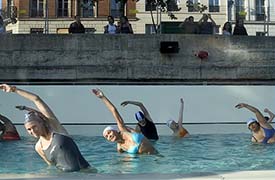 Synchronized water gymnastics entertain Paris Plage beachgoers.
---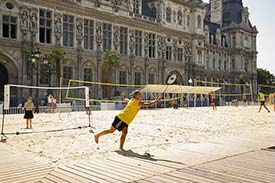 Beach volleyball comes to the Hôtel de Ville (a.k.a. the City Hall of Paris).
---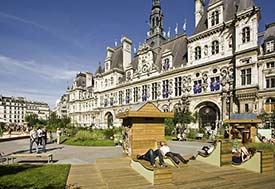 The Hôtel de Ville offers Parisians a chance to bombard their skin with ultraviolet rays.
---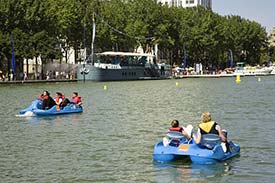 At the Bassin de la Villette, on the city's northern edge, pedalboats are a feature of the Paris Plage.
---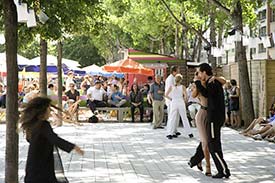 A Paris Plage ballroom-dancing event in the Parc de Villette offers a break from beach activities.
---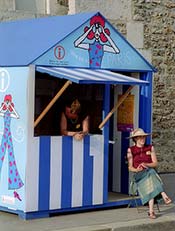 If you have any questions about Paris Plage, or if you'd like to check on scheduled events, look for an information booth along the beach.
---
Large photos copyright © Paris Tourist Office. Photographers:
1: Catherine Balet
2,3,4,5: Amélie Dupont
6,7,8.9: Marc Bertrand
10: Catherine Balet
Inset photo © IStockphoto.com/am29