Paris > Churches > St-Denis Cathedral > Suburb
Paris Suburb of Saint-Denis
From: Saint-Denis Basilica Cathedral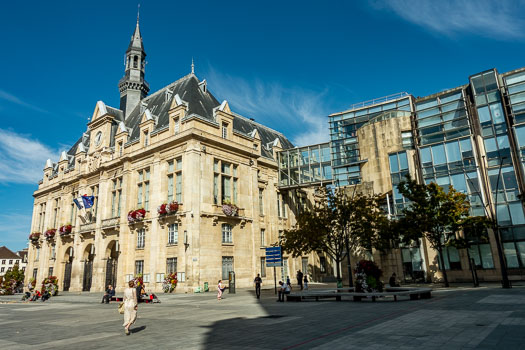 ABOVE: The Mairie or town hall of Saint-Denis is located on the Place du Caquet, a few meters away from the Saint-Denis Basilica Cathedral (inset below).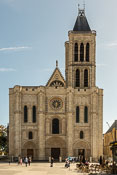 Saint-Denis, where you'll find the Basilique Cathédrale de Saint-Denis, is a suburb on the northern outskirts of Paris.
If you're more into sports than religion or architecture, you may know Saint-Denis as the location of the national football and rugby stadium, Stade de France.
The town has a population of about 112,000, with a great deal of ethnic diversity.
We recommend spending some time exploring Saint-Denis after your visit to the Saint-Denis Basilica Cathedral. You'll find plenty of shopping and places to eat within a short walk of the Basilica and the Basilique de Saint-Denis Métro station.
Here are some captioned photos from our post-cathedral wanderings through Saint-Denis:
---
BELOW: We were peckish after our visit to the St-Denis Basilica Cathedral, so we bought croissants at Lannois, a bakery just down the block.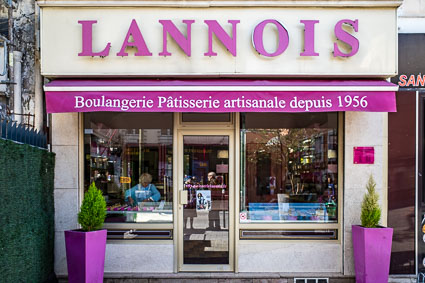 ---
BELOW: Nearby, an RATP Line 239 bus passed through the cathedral's neighborhood on its way from Saint-Denis to Rosa Parks in the 19th arrondissement of Paris.
---
BELOW: Historical signs and markers were scattered around the town center. Saint-Denis dates back to at least the 2nd Century AD (or CE, if you prefer a secular term).
The town's local hero and namesake, Saint Denis, is famous for having preached while walking several miles, head in hand, after being martyred by decapitation in the 3rd Century.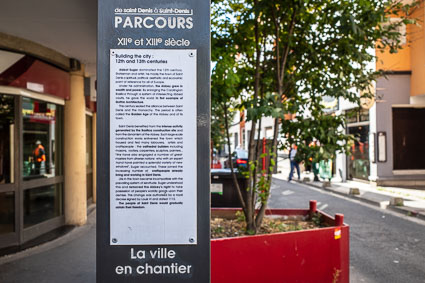 Click here to read the text on the sign.
---
BELOW: Directional signs pointed us toward museums, the national football stadium, and other places to go in Saint-Denis.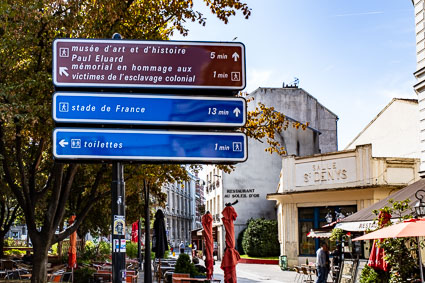 ---
BELOW: The central shopping district of Saint-Denis was a short walk from the Basilica. We took this photo of a busy main retail street from a bench in a downtown park.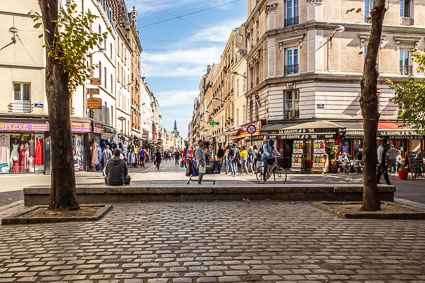 ---
BELOW: We'd already bought snacks at the Lannois bakery, but if we'd still been hungry, we could have visited Paul, KFC, or any number of other cafés, restaurants, kebab shops, and fast-food joints in downtown Saint-Denis.
Or we could have bought roasted corn from a mobile street vendor who had a grill in his grocery cart: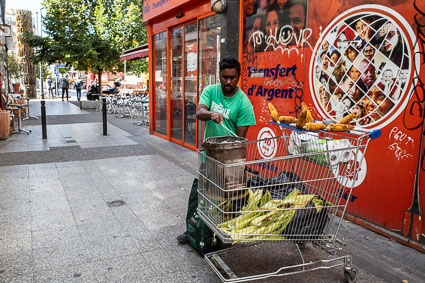 ---
BELOW: Saint-Denis's shopping district was filled with people during our weekday visit in late September: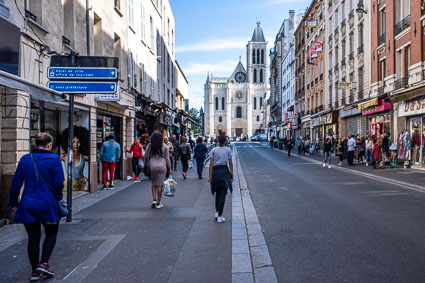 ---
BELOW: In addition to the usual chain stores, downtown Saint-Denis had plenty of small businesses that sold everything from clothing to fried chicken: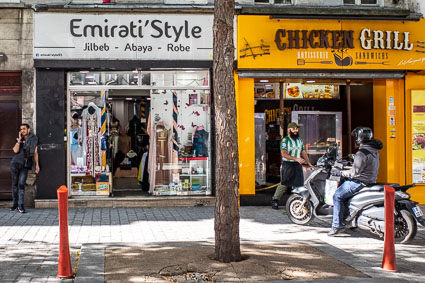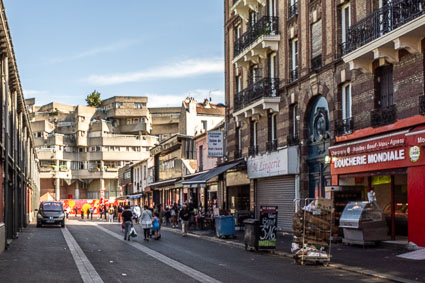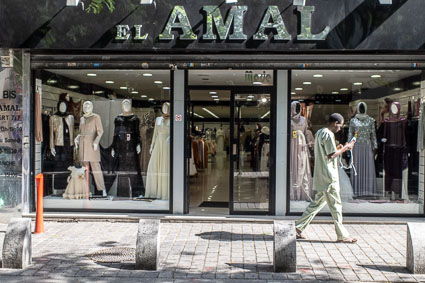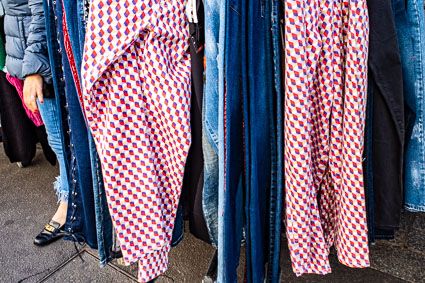 ---
BELOW: There was even a centre commercial or shopping mall with a blend of familiar and unfamiliar brands: 
---
BELOW: We couldn't resist buying strawberries from a produce shop at a bargain price: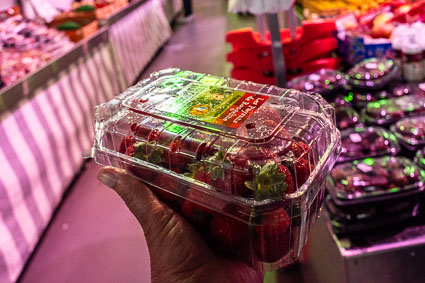 ---
BELOW: Not far away, wasps were gorging on sugar at a granite stand.
In mid- to late-September, wasps are a fixture at every outdoor food stall. They also hang out in bakeries, where they seem to be especially drawn to anything sticky or fruit-filled.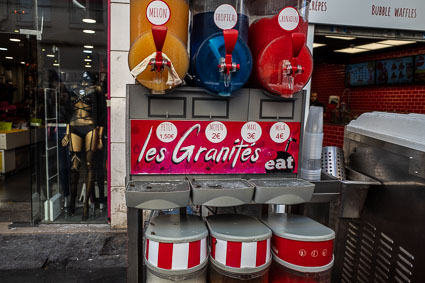 ---
BELOW: As we walked around Saint-Denis, we couldn't help thinking of a great movie title: Amour et Motos ("Love and Motorcycles").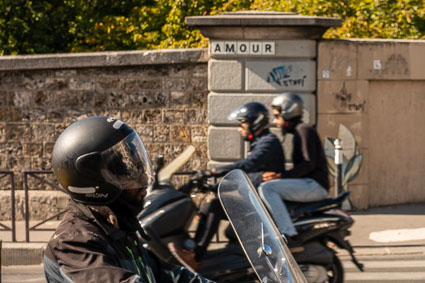 ---
BELOW: Saint-Denis may be a suburb, but its post office is definitely up to big-city standards.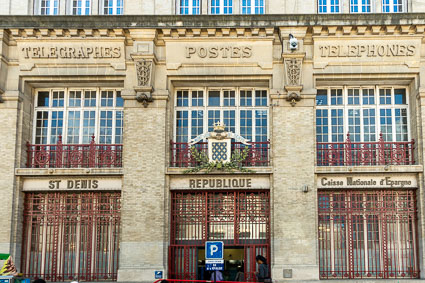 ---
BELOW: Saint-Denis has several Métro stations. We arrived and departed at Saint-Denis Basilique on Métro Line 13, which runs from Saint-Denis Université (at the northern end of the line) to Châtillon Montrouge, which is just beyond the southern edge of Paris.
Major stops along the way include the Place de Clichy (Montmartre), the Gare Saint-Lazare, the Place de la Concorde, Invalide, and Montparnasse.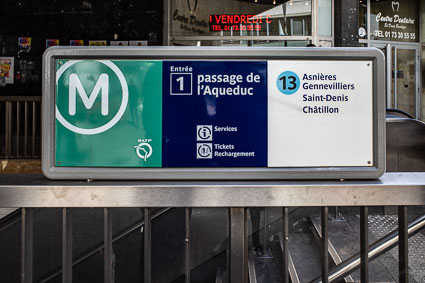 ---
For more information about Saint-Denis, see this Wikipedia article and visit the Office de Tourisme Plaine Commune Grand Paris.
Or stop in at the local tourist office storefront at 1 Rue de la République during your visit to Saint-Denis. (The tourist office is open daily from 9:30 a.m. to 6 p.m. except for December 25, January 1, and May 1.)
Back to: Saint-Denis Basilica Cathedral
---
---
---