Paris > Parks & Outdoor Spaces > Viaduc des Arts > Photos
Le Viaduc des Arts Photos
From: Viaduc des Arts and Promenade Plantée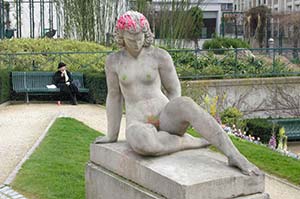 Our photo tour begins in the Jardin de Reuilly, at the eastern end of the Promenade Plantée above the junction of Avenue Daumesnil and the Rue de Charenton in the 12th arrondissement.
(In the picture above, Cheryl Imboden is eating lunch on a park bench behind the paint-splashed statue in the foreground. Her take-out meal, which included a chicken baguette sandwich, a slice of gâteau moelleux au chocolat, and a can of soda, cost only six euros at a bakery across the street.)
---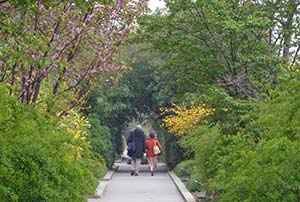 The Viaduc des Arts and the Promenade Plantée are 1.5 km or 1 mile long. At the Jardin de Reuilly, the landscaped path connects to pedestrian and bicycling trails that lead to the Bois de Vincennes. Altogether, you can walk about 4.5 km or 3 miles away from the city streets.
---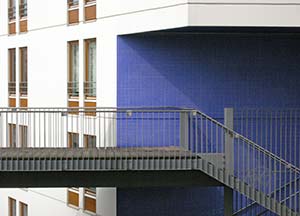 Staircases connect to the Promenade Plantée at various points, making it easy to check out the workshops below or to leave the elevated path if you're running short on time.
---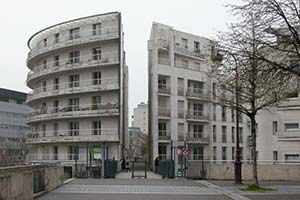 La Promenade Plantée was cut through this apartment house (or so the building's whimsical architects would have you believe.)
---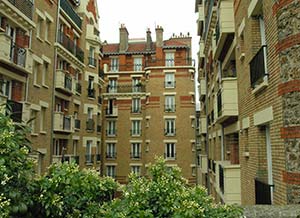 From the elevated walking path, you'll enjoy views into apartment courtyards.
---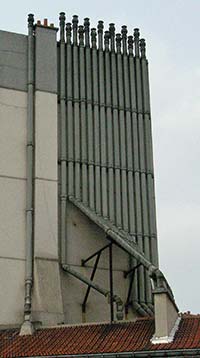 Visual surprises along the route include this artistic cluster of chimney pipes, which suggests a chemistry lab or a cathedral pipe organ.
---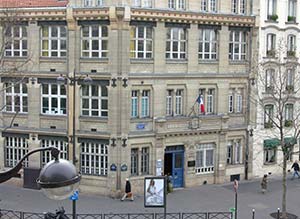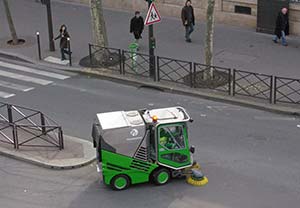 The Viaduc des Arts runs parallel to the Avenue Daumesnil, where city life goes on a few meters below the landscaped Promenade Plantée.
---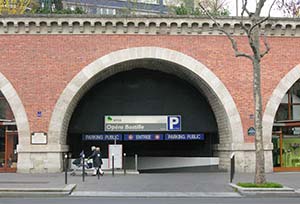 The Promenade Plantée ends near the Place de la Bastille, where a parking garage is located beneath one of the 64 brick-and-stone vaults of the old Paris-Strasbourg Railway Company viaduct.
From here, we'll walk back along the Viaduc des Arts at ground level and look at more of the arches.
---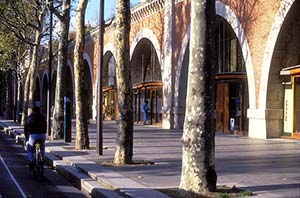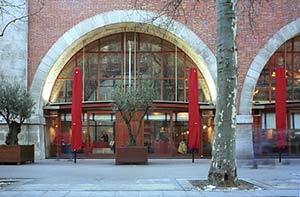 These two photos show the Viaduc des Arts and the broad sidewalk of the Avenue Daumnesil, which runs from the Place de la Bastille parking garage to the Jardin de Reuilly.
---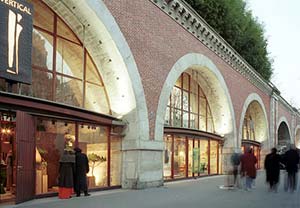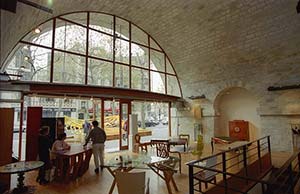 Inside the brick vaults, the Viaduc des Arts has some 50 crafts businesses that range from Abaca (conservation and restoration of papers, textiles, and pictures) to Zéphyr (3D laser engraving inside glass).
These two photos are copyright © Paris Tourist Office. The first was taken by Amélie Dupont, and the second by Marc Verhille.
Back to: Le Viaduc des Arts