Fall Travel in Switzerland 2019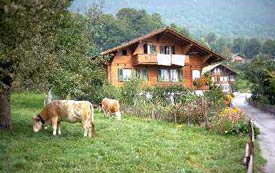 ABOVE: Ringgenberg, near Interlaken, in early fall.
If you hate crowds and high prices, autumn can be a great time to visit Switzerland--especially from September through mid-October, when the weather is most likely to be cooperative.
Bring your sunglasses and umbrella.
Swiss weather is unpredictable at any time of year, and rain is fairly common. In September and October, there's a 23% likelihood of measurable precipitation on any given day. That "measurable precipitation" can range from a barely noticeable drizzle to an all-day downpour (or even heavy, wet snow at higher elevations). As for temperatures, they vary by locale and month. Here are a few sample highs and lows from the International Association for Medical Assistance to Travellers (IAMAT):
19° / 10° C
67° / 50° F
13° / 5° C
56° / 41° F
21° / 12° C
70° / 54° F
14° / 7° C
58° / 45°
20° / 19° C
68° / 49° F
15° / 5° C
59° / 41° F
21° / 12° C
70° / 54° F
11° / 5° C
52° / 41° F
23° / 13° C
74° / 56° F
16° / 8° C
61° / 47° F
14° / 3° C
58° / 38° F
10° / -1° C
50° / 31° F
20° / 11° C
68° / 52° F
14° / 6° C
58° / 43° F
In practice, this means that mountain hikes are best scheduled for September or early October--and you shouldn't expect to find good weather at high elevations (in the resorts of Graubünden, for example), where snow can make hiking dangerous for visitors who aren't familiar with the terrain and dressed in appropriate clothing.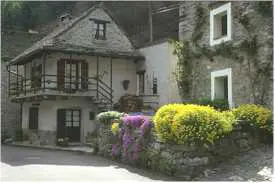 ABOVE: Stone houses in Canton Ticino.
Don't lock yourself into an itinerary.
Switzerland may have more hotel rooms per square kilometer of inhabited territory than any other country on earth. In the off-season, this means that reservations are seldom needed--and in the unlikely event that a town's hotels have been taken over by the Cowbell Engravers' Convention, you can always hop a train to the next village or ask the tourist office for help in finding a clean, comfortable Privatzimmer in a local home.
In short, it's easy to be flexible during the off-season. It's also a good idea, because a fixed itinerary can be a recipe for boredom and disappointment.
Arrive in St. Moritz in early October, for example, and you may wonder where all the people have gone. (Answer: The tourists have disappeared until the ski season, the hotel workers have gone back to Italy, and the citizens are busy counting the summer season's receipts in their homes.) Add a dose of rain, and you'll wish you were in Bern, Zürich, or Geneva, where you could be visiting museums or shopping for Swiss Army Knives.
Have a backup touring strategy.
If you're like most visitors to Switzerland, you'll want to see mountains and alpine meadows. That's fine--and if you're lucky, you'll still be able to catch great views from the top of Mt. Pilatus, enjoy a steam-powered trip up the Brienzer Rothorn, or point a telescope toward the Black Forest from an observation deck on the Jungfraujoch.
But what if the weather turns dismal or an alpine resort's native population has fled to the Canary Islands? That's when it's nice to have a backup plan.
For example: You arrive in Interlaken for a three-day stay, with plans for a series of mountain excursions. It rains. Are you defeated? No. You hop a train to Bern, where you visit Parliament, the cathedral, the Swiss Alpine Museum, and shops in the arcaded old town. Or you make an overnight detour to Lucerne, where you can escape the rain for a full day in the Swiss Transportation Museum. If the weather improves, you can always head back to Interlaken.
Buy a Swiss Travel Pass.
The easiest way to tour Switzerland is by public transportation. And the most flexible way to do this is with one of the many types of Swiss travel card, which will give you unlimited transportation on most Swiss rail lines, postal buses, lake steamers, and city transit systems for periods ranging from a few days to a month or longer.
On most routes, you just board the train, bus, or boat and show your pass in lieu of buying a ticket.
Switzerland has a variety of other discount deals for tourists. For more information, see our Swiss Rail Passes article.