"RIFFELALP HISTORY" Page 1, 2, 3, 4, 5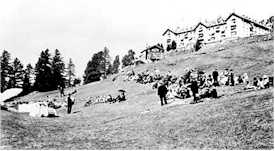 ABOVE: Summer recreation at the old Riffelalp Grand Hotel.
Sports attractions
Given the stunning Alpine landscape with its breathaking 4000-meter mountains, it isn't surprising that mountain sports experienced a revival on the Riffelalp. There was a constant stream of famous mountaineers, and all the great Zermatt mountain guide families were coming and going with their clients.
Every day, hikes were on the program. A unique feature at that time were the tennis courts, where guests could indulge in the sport in the presence of the mighty Matterhorn.
Very early on, the Seiler family had decided that Zermatt could become a place for winter sports, too. In 1908, a winter visit from Zermatt to Riffelalp was organized for the press. But it was to take almost another 20 years before winter holidays in Zermatt became possible. The first official winter season was in 1928, and from that time Zermatt--and with it, Riffelalp--flourished as a winter sports resort.
Next Page > Golden Age, a sudden end > Page 1, 2, 3, 4, 5
---