"RIFFELALP RESORT, ZERMATT" Page 1, 2, 3, 4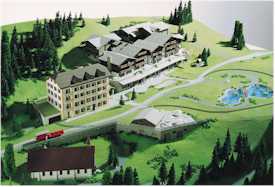 ABOVE: This architect's rendering shows the "Nostalgie" wing at left, the new main building to the right, and the old Anglican Chapel in the foreground. The red tram (built in 1996) shuttles guests between the hotel and the Gornergrat cogwheel railway in the summer.
Arriving as a guest
Let's assume that you can afford CHF 500 or more for a double (two meals included) and have booked a room at the Riffelalp Resort. You can't just drive or take a taxi to the door, so here's how you'll reach the hotel:
By car. You'll park at Täsch, about 5 km or 3 miles down the valley from Zermatt. A Riffelalp porter will take your bags and direct you to the shuttle train for Zermatt.
By train. When you arrive at the BVZ-Zermatt Bahn station in Zermatt, look for a Riffelalp Resort porter, who'll take your luggage (if you didn't already hand over your bags at Täsch) and give you a ticket for the Gornergrat rack railway. The Gornergrat-Monte Rosa-Bahnen station is just across the street, so walk over and catch the next train.
After a 20-minute ride through mountain scenery, you'll disembark at the Riffelalp station. There, a porter will take your luggage to the hotel, which is an easy 500-meter walk along a broad and gentle path. In summer, a restored antique electric tram provides transportation; in winter, you can ride by Sno-Cat or snowmobile if your mobility is limited or you have an aversion to exercise.
As you reach the hotel, you'll see a ski room on the lower level. To your right is a small copper-roofed building, the former Anglican Chapel, which has been converted into a space for concerts and small conferences. Beneath your feet are sections of the hotel that are recessed into the hillside: the Walliser Keller (a raclette and fondue Stube), a wine cellar/bar, and a two-lane bowling alley.
Head for the main entrance and go to the reception desk, where you'll be given your key and escorted to your room. Don't worry about your luggage--a porter will bring it to your room..
In your room, you'll find a welcome snack (mine was a plate of cookies that looked almost too beautiful to eat). Turn on the stereo and settle into an easy chair or soak in the bathroom's whirlpool tub. (You haven't truly enjoyed Swiss folk music until you've heard yodeling reproduced through Bose Acoustimass speakers in your bedroom or bathroom at 7,290 feet.) Allow a few minutes to read through the guest manual, which explains how to use such amenities as the remote control that operates room lighting, drapes, and the electric "Do not disturb" sign in the corridor.
Next Page > Meals, activities > Page 1, 2, 3, 4
For other information on the resort and Zermatt, click these links:
---
Photos: Riffelalp Resort. Used by permission.