"RIFFELALP RESORT, ZERMATT" Page 1, 2, 3, 4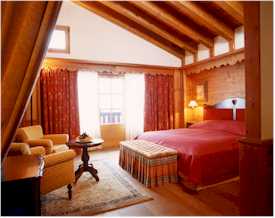 ABOVE: Guest room in the new wing of the Riffelalp Resort. (Rooms in the remodeled "Nostalgie" wing are similar but slightly smaller.)
Meals at home or away
The Riffelalp Resort has three restaurants. The Alexandre serves international cuisine in the Swiss luxury-hotel tradition and offers a generous breakfast buffet. The Walliser Keller is an intimate 40-seat Stube for rustic Alpine specialties, and an outdoor terrace serves food and drink in good weather. Bars include the 70-seat Lodge (a piano bar that also has a library) and a wine cellar.
Although the standard rate includes half-board, you don't need to take all your meals at Riffelalp. You can take advantage of the Seiler Hotels "dine-around," which lets you reserve a table in any of nine Seiler hotel restaurants in Zermatt. (And if you miss the special 11:30 p.m. Gornergrat train back to Riffelalp, you can phone the concierge to request emergency accommodations in the village.)
Note: Rates include a free roundtrip on the Gornergrat railroad every evening, so it won't cost you any more to eat in the village than it would at the hotel.
Winter and summer activities
Skiing, snowboarding, and sledding are the main reasons for visiting Riffelalp in winter. The Gornergrat's cogwheel trains to the slopes are within walking distance, and you can easily ski back to the hotel from Gornergrat or head down to Zermatt on the adjacent ski trails. (A thrill-inducing sled course runs from Rotenboden to Riffelberg, a few stops up the Gornergrat railway, where you'll find a children's ski park.) The Riffelalp Resort has a small ski shop that rents and repairs equipment.
In summer, hiking and mountaineering are the big attractions. You can also take the train to Zermatt for tennis, minigolf, and other organized recreation, or you can enjoy summer skiing and snowboarding in the mountains around Zermatt.
The hotel itself offers parties, pizza nights, concerts, and other events to keep adults and children occupied. If the weather turns bad or you've had your fill of the outdoors, you can bowl, play billiards, swim in the large indoor pool, get a massage or steam bath in the Wellness Center, or build muscles and burn off calories on the computerized exercise equipment. There's also a "home cinema" where you can watch movies if you're bored with the satellite TV channels in your room.
Personal observations, room rates, Web links
I attended a weekend press conference at the Riffelalp Resort's opening in December, 2000. To read about my experiences and my reactions to the hotel, see my reviewer's notes. To learn about the history of Riffelalp, read the illustrated historical overview.
Finally, to check room rates or make a reservation, visit the resort's own Web site on my related Web links page (where you'll also find links to Zermatt Tourism and the railroads that serve Zermatt and Riffelalp).
For other information on the resort and Zermatt, click these links:
---
Photos: Riffelalp Resort. Used by permission.