Lausanne
Travel and Tourist Information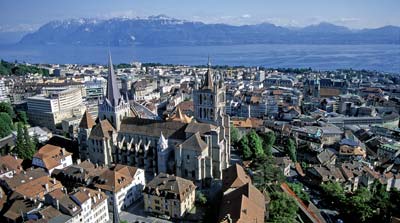 ABOVE: A panoramic view of Lausanne, Lac Léman, and the French Alps.
By Durant Imboden
Lausanne may be the capital of Vaud, but it isn't your typical cantonal seat. This picturesque, hilly city of 125,000 has vied with Geneva as the intellectual and cultural center of French-speaking Switzerland for centuries.
Lausanne is a convenient place to spend a few days while touring Switzerland, since its railroad station is a connecting point for trains between France, Geneva, Bern, and the skiing and mountaineering resorts of the Valais. And if you're tempted to skip Geneva because you don't have time to do that city properly, Lausanne is a practical (and manageable) alternative.
Something old, something new
The Cité, or old town, is uphill from the train station. It's packed with fine buildings--among them, Switzerland's largest cathedral, which has been Protestant since the 15th Century. Other landmarks include the 17th Century Hôtel de Ville (city hall), the Palais du Rumine (occupied by several museums), the Château St-Maire (a former bishops' castle), and the Ancienne-Académie (the University of Lausanne's former home).
Heading in the opposite direction--i.e., downhill--you can walk or take public transport from the railroad station to the lakeside port-resort of Ouchy. This former fishing village, now a part of Lausanne, is a great place to stroll along the shores of Lac Léman (a.k.a. Lake Geneva), catch a lake steamer to Geneva or Montreux, or spend a lively evening on the waterfront during the summer months.