November 1: San Marco
My son Anders and I were staying on a river ship that was moored along the Riva dei Sette Martiri just below the public gardens and the Biennale grounds. I'd heard the acqua alta warning sirens just after 8 a.m. on November 1, but the Riva degli Schiavoni was free of water when Anders and I walked toward the Piazza San Marco in mid-morning.
---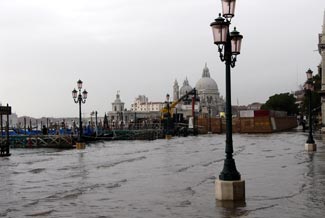 It didn't take long for the situation to change: As we got closer to the Piazza San Marco, water was beginning to flood the Riva degli Schiavoni.
---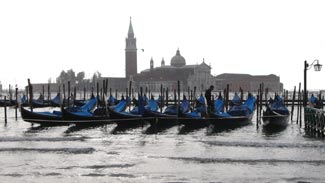 Gondolas tied up along the waterfront appeared to be moored offshore.
---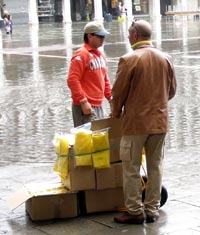 A souvenir stand along the Riva degli Schiavoni was selling one-size-fits-all plastic boots for 10 euros; by time we reached the Piazza San Marco, both the water and the price had risen: This entrepreneur was selling identical disposable boots for 15 euros.
Anders and I had left our rubber wellies at home, so we bought two pairs of plastic boots from the street vendor. The above-the-knee boots were cleverly designed, with stiff traction soles, plastic ties across the instep to prevent shoes from sliding around inside, and drawstrings at the top.
Unfortunately, the plastic boots were a tight fit for our shoes, and each of us wore holes in one boot. (My suggestion: Don't buy the boots if your shoes are larger than an American men's size 10 or a European size 43. See the International Shoe Size Conversion Charts if you're from a country other than the U.S., Canada, or Western Europe.)
---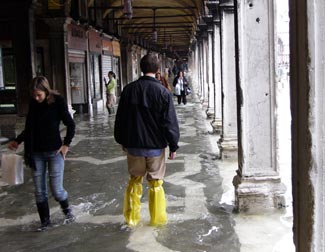 The southern and western arcades of the Piazza were still dry (they're several steps up from the square), but the northern arcade was already flooded by the time Anders got his yellow disposable boots on.
---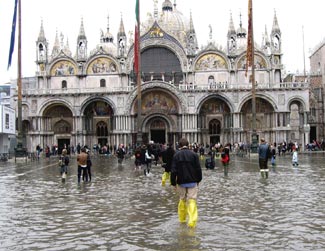 Floodwaters in the Piazza San Marco were getting deeper by the minute, and the very middle of the square--which stays dry in mild acqua alta conditions--was now a lake.
---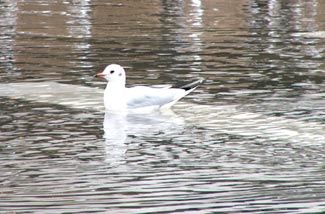 A seagull floated in the middle of the Piazza San Marco. (According to the Associated Press, a canoe was seen in the square during the previous day's flooding.)
---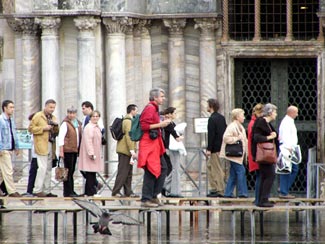 Pedestrians who lacked boots used temporary walkways that crossed the Piazza San Marco and the Piazzetta. (This photo was taken in front of the Basilica di San Marco.)
---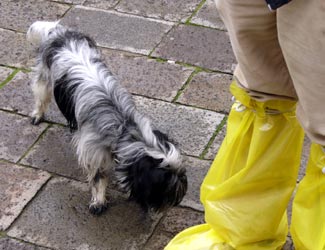 About an hour later, in the Campo Santa Maria Formosa, we encountered this soggy dog, who seemed intrigued by Anders's plastic boots. The acqua alta was over, and the city's pavements stayed dry for the rest of the week. (Unfortunately, high water returned the following week, with peak tides of 102 to 132 cm forecast for November 10, 11, and 12.)
Back to: Acqua alta - Introduction
---
---