Stow Your Bags at the Basilica di San Marco in Venice
Reserve a luggage locker to park your suitcase or backpack before you visit St. Mark's Basilica.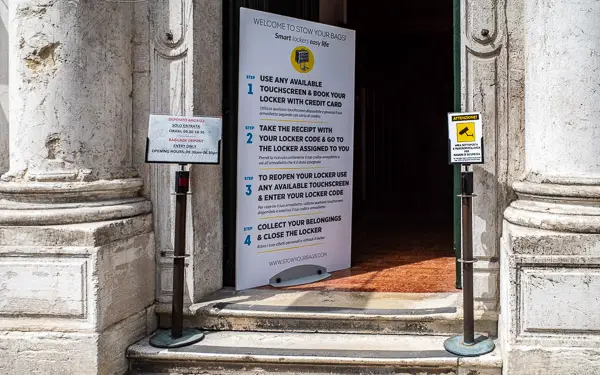 ABOVE: Luggage lockers are available immediately to the north of St. Mark's Basilica, and you can book a locker ahead of time.
The Basilica di San Marco, a.k.a. St. Mark's Basilica, is one of Venice's most popular tourist attractions. It's easy to visit (especially if you opt for a "skip the line" reservation), but there is a catch: You can't bring your suitcase or backpack into the church.
Fortunately, the Basilica offers luggage storage in a deconsecrated church just across from its famous lions (which are on the left side of the Basilica as you face the main entrance).
The Stow Your Bags facility consists of luggage lockers, and each locker is big enough to hold one carry-on suitcase. We suggest reserving a locker online, especially if you're visiting during peak periods such as weekends, public holidays, and summer vacation season.
For current hours, rates, and reservations. visit Stowyourbags.com: St. Mark's Square. (Be sure to read the reviews for tips from users.)
---
More photos: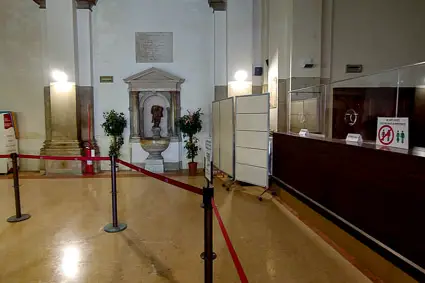 ABOVE: This photo, which was taken inside the entrance, shows the Stow Your Bags facility on a quiet day in April. During busy periods, there can be a long line for the available lockers.
---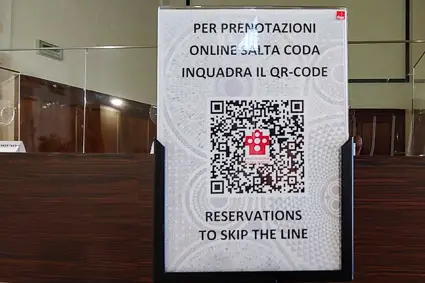 ABOVE: To save waiting time, you can book in advance and use a code on your smartphone to claim your locker when you arrive.
---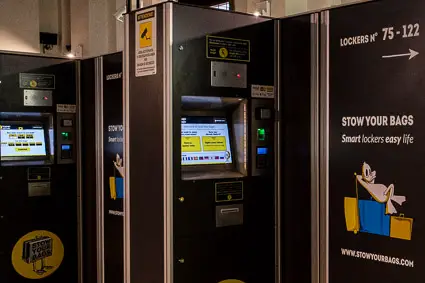 ABOVE: If advance planning isn't your thing, you can book a locker via a touch screen and wait for the computerized system to assign you a locker.
---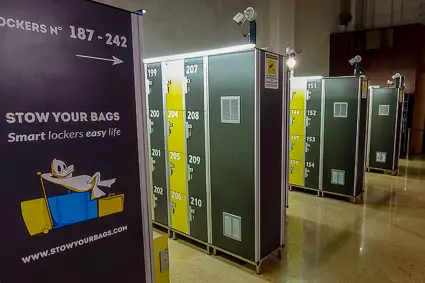 ABOVE: Stow Your Bags: St. Mark's Square has several hundred lockers, so you should be able to find a locker unless Venice is packed with tourists.