Venice > Planning > Vaise lockers & lockboxes
Vaise Luggage Lockers & Lockboxes
Looking for a place to store your bags during the day in Venice's historic center? Vaise has locations on both sides of the Grand Canal. (It also provides key lockboxes for vacation-apartment owners and guests.)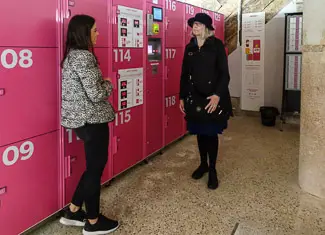 ABOVE: Vaise's owner, Martina Pignaffo, chats with Cheryl Imboden in her location on the Calle dei Botteri (a few blocks from the Rialto Bridge).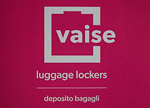 Exploring a city with a suitcase or an armload of shopping bags is nobody's idea of fun. In Venice, a city with more than 400 footbridges, being able to park your possessions is almost a necessity when you're out and about in the crowded, narrow streets.
Obvious solutions to the question of "Where do I store my luggage?" include deposito bagagli locations at or near the railroad station, the airport, and the Piazzale Roma (the gateway for bus, taxi, and car traffic into Venice's historic center). And if you're checking in or out of a hotel, you may be able to leave your bags with the reception desk or concierge.
Still, there are reasons why you might prefer centrally-located baggage lockers:
If you're staying in a tourist apartment, the landlord is unlikely to offer baggage storage before or after your visit.
Deposito bagagli offices are nearly always on the city's periphery, which means that--if you're staying in the center--you may need to waste time going back and forth between the baggage office and the sights.
A locker can be cheaper than a deposito bagagli office, because a single fee lets you store as many items as you can cram into the locker.
A locker offers more security than leaving your valuables (such as a backpack with a computer and cameras) in a hotel lobby or an unsupervised baggage room at a hotel.
During busy vacation periods or on weekends, using a locker will save you from standing in line at a deposito bagagli office.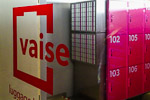 Now that we've established the utility of luggage lockers, where can you find them? That's easy: Head for the nearest location of Vaise, which opened in 2017.
Vaise has two locations--one in San Polo, near the Rialto Bridge, and another in San Marco, three minutes from St. Mark's Square. Each is equipped with lockers that can accommodate up to four rollaboard suitcases of carry-on size (the lockers measure 61 cm high x 51 cm wide x 84.5 cm deep, or 24" x 20" x 33" HWD).
To obtain a locker, simply go to either Vaise location, press the doorbell for admittance, and obtain a locker with your credit card. You can even reserve ahead of time through Vaise's Web site (a good idea on weekends or during high season).
The shops are open daily from 9 a.m. to 9 p.m., and the multilingual control panel is easy to use. If you have problems or need assistance,  just push the help button above the keypad, and you'll be connected to a Vaise staff member by phone.
Please note:
Vaise does not encourage overnight storage, and you'll be assessed a steep night fee if you fail to pick up your bags by 9 p.m.
In the event of an acqua alta, or flood tide, either Vaise location could be out of service for several hours until the tide goes down. (Acqua alta tides occur mostly during the late fall and winter months; if a flood is forecast, the shop will be closed.)
Vaise lockers are protected by 24/7 video surveillance, and your luggage is insured against theft or damage.
Vaise also offers a

lockbox service

for apartment owners and renters. If you're renting a tourist flat, your landlord may send you a code and direct you to one of Vaise's locations. When you arrive at the shop, you'll press the doorbell to enter, enter your code into a keypad, and retrieve your apartment keys from the designated lockbox.
For more information (including maps), or to book a locker in advance, go to Vaise's Web site.
More photos: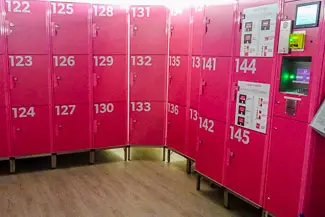 ABOVE: Lockers in the Vaise shop in the Calle de Piscina de Frezzaria, San Marco.
---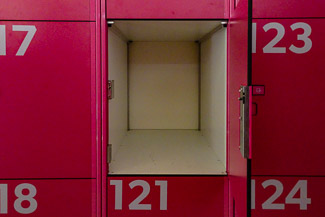 ABOVE: An open locker at Vaise on the Calle dei Botteri, San Polo (near the Rialto Bridge).
---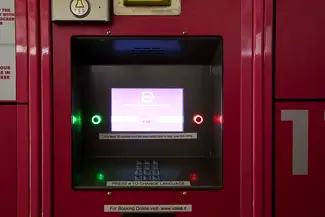 ABOVE: A central control panel with instructions in English, Italian, Spanish, and French.
---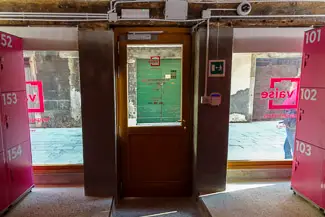 ABOVE: A view of the Calle dei Botteri from inside a clean, well-lit Vaise location.
---