An Apartment in Cannaregio
Page 2
Continued from page 1
Living Room and Kitchen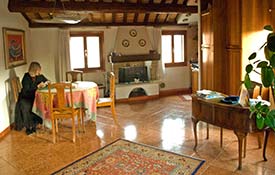 The living room includes a table for four, a nonworking fireplace, a pullman kitchen (right back corner), and an antique desk.
At the opposite end of the loft-like space, where I was standing when I took this photo, you'll find a leather sofa, two easy chairs, a coffee table, TV, DVD player, portable radio-CD player, and bookshelves. (Bring your own mobile phone, and if you need to check your e-mail, you can visit one of the Internet points in the neighborhood.)
---


LEFT: The entrance door is halfway down a flight of stone steps. The impressive steel-framed door has multiple deadbolts on both sides, like the door of a bank vault. RIGHT: At the top of the steps, marble mosaic surrunds a stone column.
---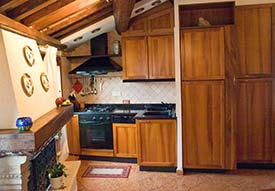 The pullman kitchen is compact but well-equipped, with a modern gas range and double sink. A dishwasher, large refrigerator-freezer, washing machine for clothes, and storage closet are hidden beyond wooden cabinetry. (There's no microwave, and you'll need to dry clothes on a drying rack or on a pulley-operated clothesline that can be reached from the bathroom window or living room.)
Next page: Bedrooms, bathroom
---
---