An Apartment in Cannaregio
Page 3
Continued from page 2
Bedrooms and Bathroom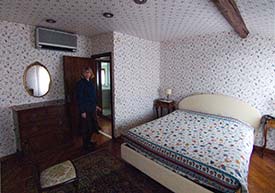 The master bedroom has a queen-sized bed, two antique dressers, and generous closet space. Like the second bedroom (shown below), it has parquet floors for winter comfort.
---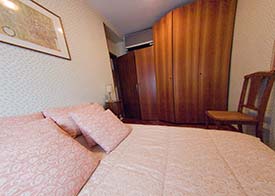 The second bedroom is smaller, with much of its floor area being occupied by a large bed. We didn't use the bed during our stay, but Cheryl did hang some of her clothes in the modern storage units (which are concealed behind the closet doors).
---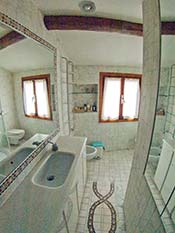 This fisheye view of the spacious bathroom doesn't show the modern toilet or the shower stall, which are around the corner on the right, beyond the mirrored door of a built-in storage cabinet. The bathroom is paved in marble tile.
The only thing that could use improvement is the shower: Its dual curved doors have a small gap (so be careful where you point the shower head), and hot water is in short supply unless the apartment's heat is turned up.
Next page: Location and Views
---
---