---
Venice Flood Warnings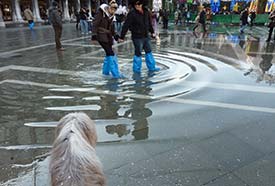 ABOVE: Tourists wear disposable plastic boots during acqua alta in the Piazza San Marco.
Flooding, called "acqua alta" or "high water," is a fact of life in Venice. It occurs when an unusually high tide (aided by low atmospheric pressure and southerly winds) pushes water from the Adriatic Sea into the Venetian Lagoon. Acqua alta seldom lasts more than a few hours, and while it isn't dangerous, it can annoying--especially if you're traveling without boots or need to roll luggage through flooded streets.
In the past, acqua alta occurred mostly from late fall to early spring. Today, with ocean levels rising, flooding can happen at any time of year, so we suggest looking at these articles and warning tools before your visit:
Acqua Alta
Our illustrated article has background information, photos, firsthand reports, and advice on what to expect and do during acqua alta. Also see the "Flooding" category of our Venice Travel Blog.
City of Venice: Tide Forecast
This Italian-language page from the Comune di Venezia shows anticipated high and low tides for a 71-hour period. (Click here and scroll to the "Scarica i segnale" links to hear sample acqua alta sirens and warning tones in MP3 format.)
hi!tide Venice
Download a free tide-forecast app for your iPhone or Android smartphone.
Venice Against the Sea: Flood Zone
This interactive National Geographic map shows flood-prone areas of the city. (Slide the yellow-orange bar up or down on the color-coded map legend to view flooding at different tide levels.)