Venice > Planning > Venice for Dogs
Venice is a dog-friendly city, and your pet is welcome if you know the ropes and follow the rules.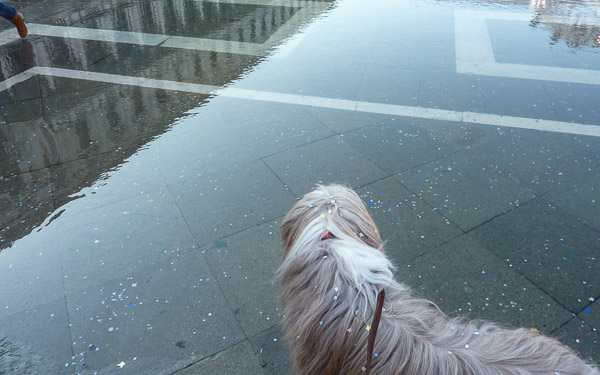 ABOVE: Maggie the Bearded Collie watches as water bubbles up from a drain in Venice's Piazza San Marco during high tide.
There was a time when Venice was known for its feral cats, but today, pet dogs have largely displaced their feline rivals. And canine residenti aren't the only dogs in town--the city also hosts visiting cani in droves.
Your dog is welcome to join the local canine community, as long as it's well-behaved and you understand the practicalities of traveling with a dog in Venice, Italy.
---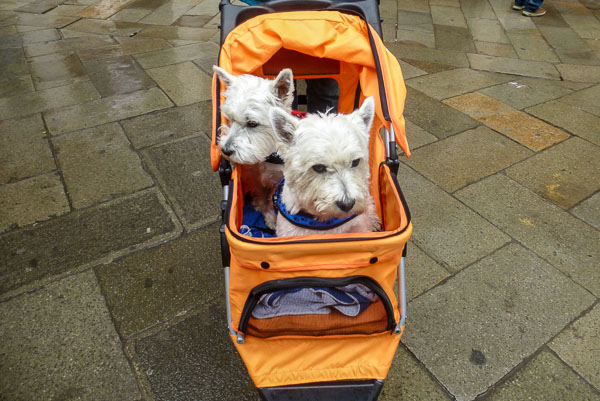 ABOVE: When these dogs need a room, they ask for a double.
---
We recommend finding a hotel room or vacation apartment in central Venice to minimize commuting. (The Lido di Venezia, Venice's island beach resort, is another possibility if you don't mind a ride by water bus to the city center.)

Many hotels and rentals allow dogs--sometimes for an added fee, sometimes at no extra cost.

Our accommodations partner, Booking.com, makes it easy to see whether a property is pet-friendly. On Booking's individual hotel or rental pages, scroll down to "House Rules" for the property's pet policy.
---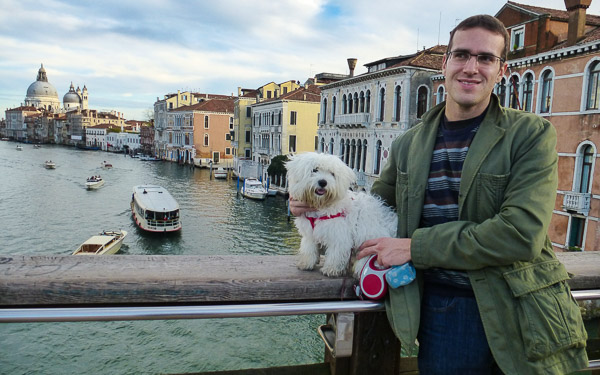 ABOVE: A man and his dog pose on the Accademia Bridge, which is close to hotels in several price ranges.
---
Tips:
Try to stay at a hotel or apartment that's near your arrival and departure point. Hauling luggage over footbridges while trying to control a dog can be difficult, especially during peak travel months or on weekends. Squeezing onto a crowded public water bus with suitcases and a dog isn't much fun, either.

A location near a relatively quiet square (or, better yet, a patch of scruffy grass) will be convenient when your dog needs to relieve itself. See "Practical advice and warnings" below for more on this topic.
---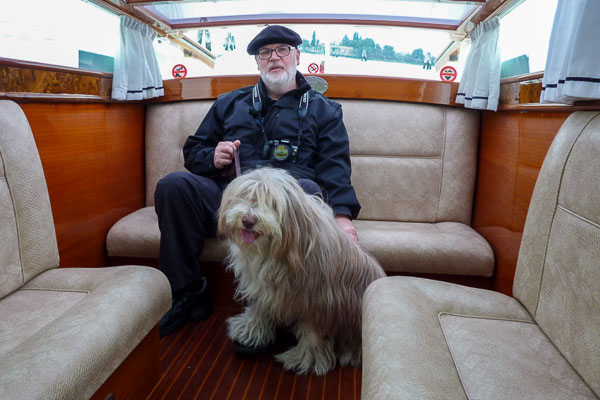 ABOVE: A water taxi can make it easy to get from the airport or railroad station to central Venice, but getting in and out may be tricky if your large dog isn't used to boats.
---
From Venice Marco Polo Airport (VCE):
Airport buses.
ATVO express coaches and ACTV city buses run between VCE and the Piazzale Roma, which is Venice's gateway for motorized traffic. You can bring a dog on both kinds of bus.
On ATVO coaches, the rules are as follows:
Well-behaved pets in small cages or carriers travel free, but you need to hold the carrier in your lap.

Medium and large dogs travel at full fare, and they can't occupy a seat. (Exception: Guide dogs for sight- and hearing-impaired passengers travel free.)
On ACTV buses, the rules are the same as for public water buses (vaporetti), as indicated under "Dogs on public transport" below.
---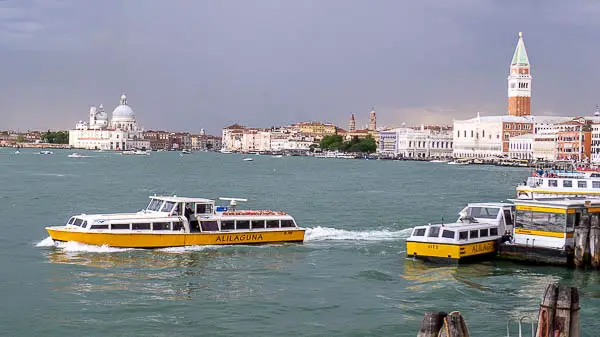 ABOVE: An Alilaguna airport boat leaves the Arsenale waterbus stop while a companion boat points toward the Piazza San Marco.
---
Alilaguna airport boats.
Alilaguna's distinctive yellow-and-white water buses connect Venice Marco Polo Airport with the city center.
Dogs of any size travel free on Alilaguna, but--at least in theory--they must be muzzled and held in the passengers' arms.
Please note:
If an Alilaguna boat is crowded or your dog makes the crew uncomfortable, the dog may not be allowed on board. (Guide dogs are always permitted but must be muzzled.)

The Alilaguna Blue Line to the Piazza San Marco and beyond has large boats and is fairly dog-friendly. Boats of the Orange Line (which runs up the Grand Canal) are smaller and more cramped. If you have a medium or large dog, take the Blue Line whenever possible.
---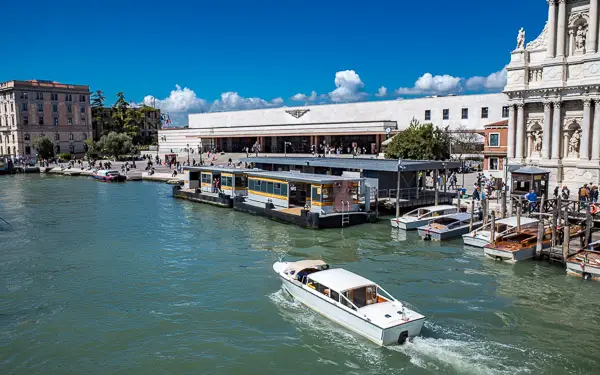 ---
Water taxis.
Dogs are allowed on water taxis without charge, unless the pilot objects.
Be aware that getting into and out of a water taxi can be tricky, especially if your dog balks at jumping across the gap between the boat and the landing point.
(Warning: The water taxi's entrance steps may be well above or below the level of the boat landing, depending on the tide.)
Land taxis.
Conventional four-wheeled taxis run between Venice Marco Polo Airport and the Piazzale Roma, where you walk to your hotel or board a public water bus (such as the Line 1 vaporetto), which runs up the Grand Canal to the Piazza San Marco and beyond.
Small dogs can ride in taxicabs for a modest fee. Some taxi drivers may allow medium and larger dogs, but a ride isn't guaranteed.
---
From Treviso Airport (TSF):
TSF is used by Ryanair and Wizzair. Two bus lines, ATVO and Barzi, run between Treviso Airport and central Venice. See our Treviso Airport Buses article for more details.
Note: ATVO's pet-friendly rules are listed under "Airport buses" above. Barzi doesn't allow animals, except for guide dogs.
---
From the Venezia Santa Lucia railroad station:
After leaving the Venice railroad station in the city center, you can:
Walk to your destination;

Take a public water bus (see below);  or...

Pay €60,-- or more to travel by water taxi within central Venice.
Note: You'll find vaporetti (water buses) and water taxis along the waterfront in front of the station.
---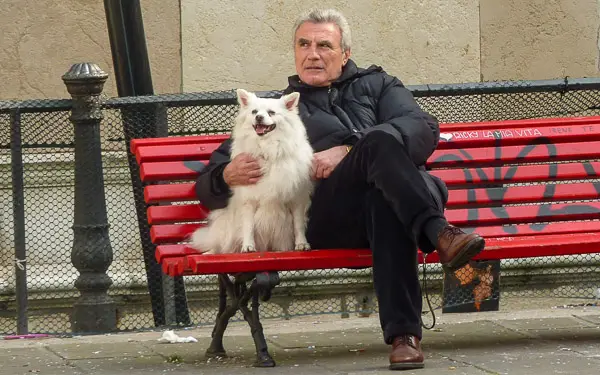 ---
From a parking lot or garage:
---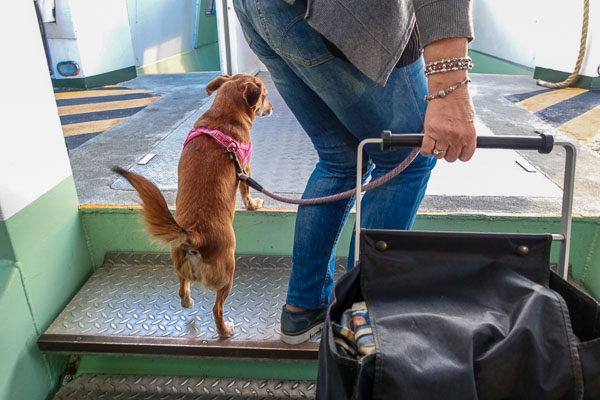 ---
Transportation services within Venice's historic center include water buses such as vaporetti (operated by ACTV), traghetti (gondola ferries across the Grand Canal), and gondole (Venice's classic sightseeing boats where an oarsman stands behind you as the gondola moves gently through local canals).

In addition, ACTV offers buses and trams that serve Venice's mainland districts of Mestre and Marghera. You can also use ACTV tickets on the People Mover, an elevated tram that runs from the Piazzale Roma to the Marittima cruise basin and the Tronchetto parking island.

For more about getting around Venice, see our Local Transportation articles. Here's what you need to know about ticketing and traveling if you're a dog:
---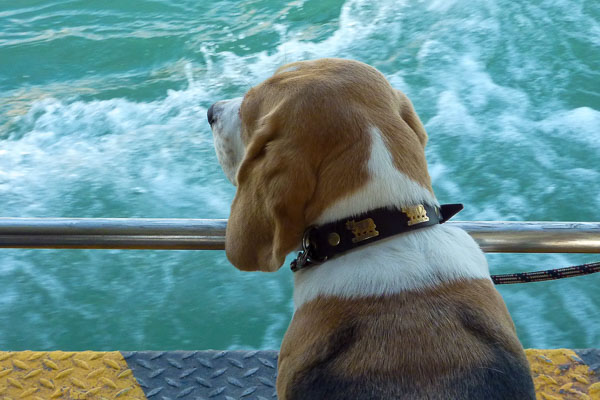 ---
ACTV public transportation:
You can bring one dog per passenger on water buses, land buses, trams, and the People Mover. The pet travels free. Your dog must wear a muzzzle, and it must be leashed or carried.

Pet carriers are also allowed, with a maximum size of "150 cm as a sum of the three dimensions."
Please note:
Only small dogs are allowed on land buses and trams. However, this is Italy, and the definition of "small" may be stretched by a sympathetic driver or ticket inspector.

Your dog won't be allowed to board if the boat or vehicle is too crowded, or if the dog is judged to be a danger to other passengers' safety.

You may notice that local dogs don't always wear leashes and muzzles on public transportation. In Venice, residenti often get more favorable treatment than tourists do, so it's best to play it safe and follow the rules.
---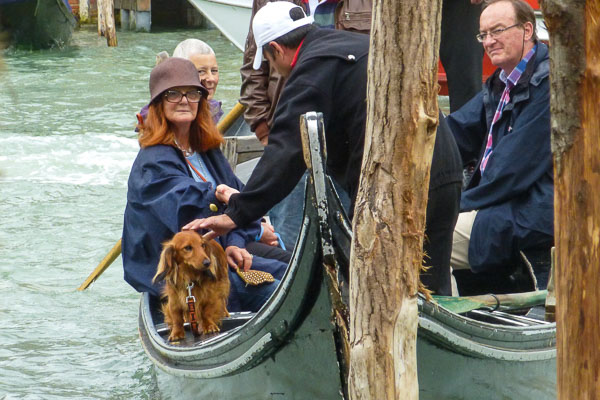 ---
Traghetti (gondola ferries):
A traghetto is an oversized gondola (see Gondole below) that has two oarsmen: one in the bow, and another in the stern.

These human-powered passenger ferries run more or less continuously between landings on either side of the Grand Canal. The journey is quite short, and the cost is modest.

Depending on the year and season, there may be anywhere from two or three to half a dozen traghetto routes in operation.

Local dogs frequently ride on traghetti, and many of them hop on and off with great agility. Tourist dogs aren't forbidden, but unless your dog is small enough to carry in your arms (or is obviously comfortable with small boats), the boatman may wave you off at the pier.

 Read our traghetto article for more details and photos.
---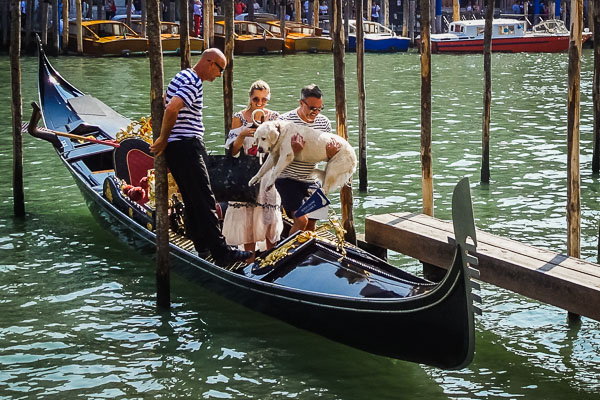 ---
Gondole:
A gondola is a sightseeing boat, not a form of  point-to-point transportation, but we're featuring gondole here because a surprising number of gondoliers are willing to take dogs on a leisurely tour of Venice's canals.

For more information on prices and passenger limits, see our article on Gondolas and gondola rides.
---
Train travel from the mainland:
---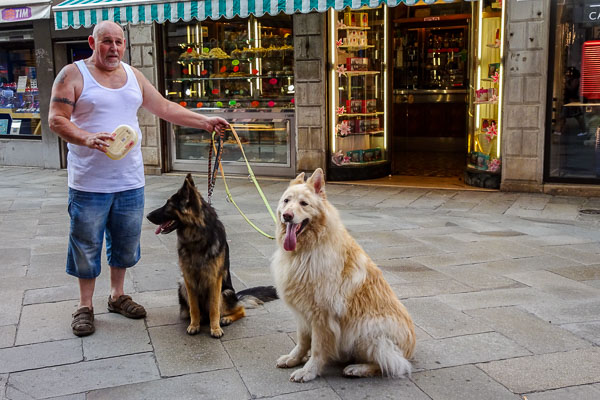 ABOVE: A man poses with his leashed dogs on a Venice shopping street.
---
Basic rules and regulations:
Dogs should be kept on leashes no longer than 1.5 meters, unless they're in pet carriers.

In theory, a muzzle is required, so it's a good idea to carry one even if your dog isn't wearing it.

Also note that you can't enter Italy with more than five dogs per person or with puppies younger than 15 weeks.
---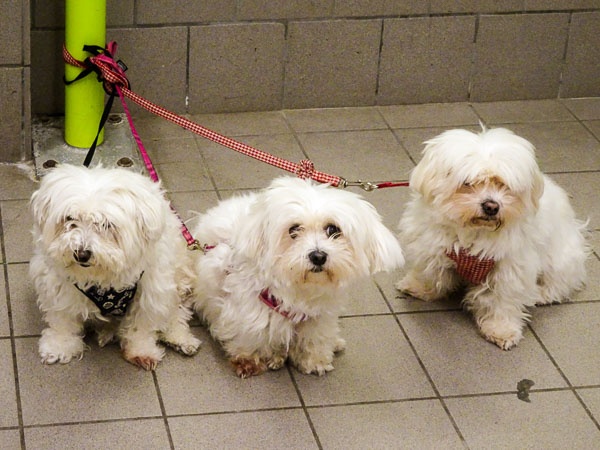 ---
Where dogs are welcome:
In general, Venice is a dog-friendly city. Most shops, bars, sidewalk cafés, etc. allow dogs. So do many indoor restaurants, at least in the lower price ranges.

Supermarkets and other food stores are supposed to be off limits to dogs, but the rule isn't always enforced. (In supermarkets, you'll often see dogs waiting for their owners inside store entrances.)
---
Coping with crowds:
Prime tourist areas such as St. Mark's Square and nearby streets can be mobbed in summer, on weekends, or during special events such as Carnival.
If your dog is at all skittish in crowds, we suggest visiting at a quieter time of year (see Venice in Winter) or avoiding the area between the Piazza San Marco and the Rialto Bridge.

Small dogs may feel safer and more comfortable in your arms or in a pet stroller. However, if you're using  a stroller, be aware that central Venice has more than 400 footbridges with steps.
---
Food and water: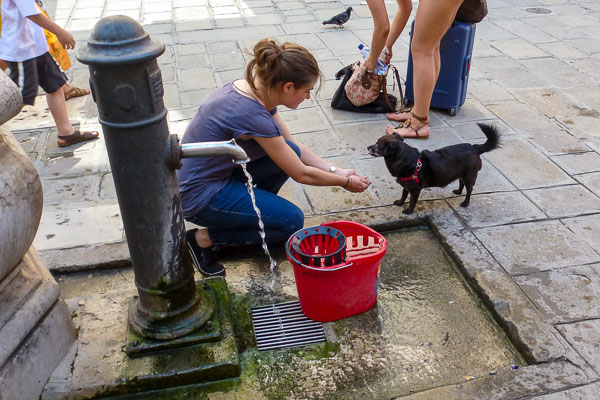 ABOVE: A woman gives her dog a drink at a public water fountain in Venice.
---
Feeding your dog isn't likely to be a problem: Pet stores are in nearly every neighborhood, and supermarkets also have dog food and snacks.

Water is also easy to find, thanks to free-flowing tap water at 122 public fountains in the city center. Often you'll find a dog bowl sitting on the drain, but it's a good idea to carry a bowl with you. (Or you could just cup your hands, like the woman in the photo above.)
---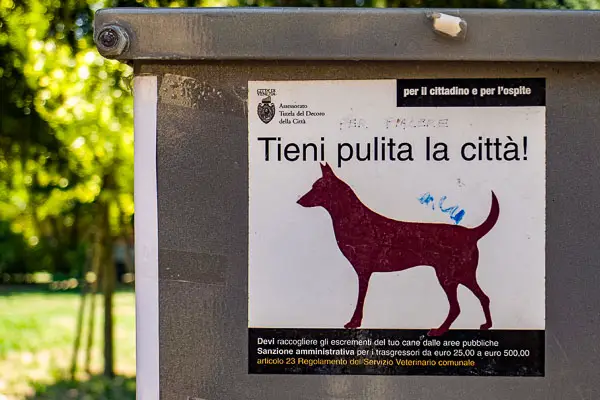 ABOVE:  A "Keep our city clean" placard in the Giardini Pubblici warns dog owners to pick up after their pets. (Fines for noncompliance range from 25 to 500 euros.)
---
Pipi and cacca:
Most of Venice's grass is behind walls (in private courtyards) or confined to a handful of neatly groomed parks. This can be inhibiting to visiting dogs who have been trained to do their business on greenery.

There are a few patches of scruffy grass scattered around Venice's historic center. Local dog owners often seek out the grass by the Church of San Trovaso in Dorsoduro, next to the Squero or gondola boatyard. Another, albeit less convenient, spot is the Giardino di Fondamenta de la Pescaria behind iUAV (one of Venice's universities) and the San Basilio waterfront.

In general, your best bet is to be patient until your dog figures out that paving stones are a usable alternative to grass for toileting purposes.
Tips:
Remember to carry disposal bags when you're walking with your dog. (Public trash bins can be hard to find, but they do exist, so don't give up until you find one.)

Avoid letting Fido or Fifi let loose in the middle of a busy street. Look for campi (public squares) that aren't too crowded or empty back streets where you can clean up after your dog without inconveniencing pedestrians.

Our Maggie hated going pipi or cacca on unadorned pavement, but she found the Campo San Polo (Venice's second-largest square) reasonably congenial because it had sprigs of grass growing between the stones. Keep the Campo San Polo in mind if your dog insists on at least a hint of vegetation.

If you have a male dog, try to keep him from whizzing on brick or stone buildings. The salts in urine can be destructive to historic monuments. (Another great idea: We've seen locals carry water bottles to rinse spots that their male dogs have targeted.)
---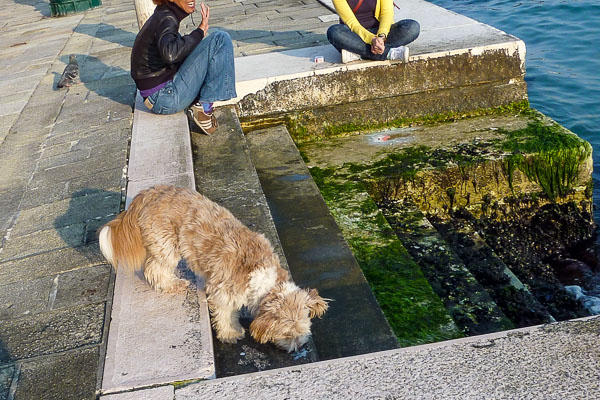 ---
For the activities mentioned in the previous section, the nearest quiet square or street will do. But when your dog needs a long, uninterrupted walk without having to bump canine shoulders with fellow tourists, here are a few suggestions. (We suggest investing in a good printed map or using Google Maps: Venice on a large screen.)
---
San Marco and Castello:
From the Piazzetta (an extension of the Piazza San Marco), walk along the riva or waterfront promenade to the quiet residential neighborhood of Sant'Elena at the eastern tip of Venice's historic center.
Along the way, you'll encounter the Giardini Pubblici, a large park with benches and trees where you and your dog can take a break from San Marco's tourist crowds. (This turns into the Parco delle Rimembranze after you've crossed into Sant'Elena via a small bridge.)

Tip: The Hotel Indigo Venice - Sant'Elena is a convenient place to stay if you and your dog want a quiet hotel near parks and other greenery. The hotel is only a 30-minute walk from the Piazza San Marco, and a vaporetto stop is close by.
---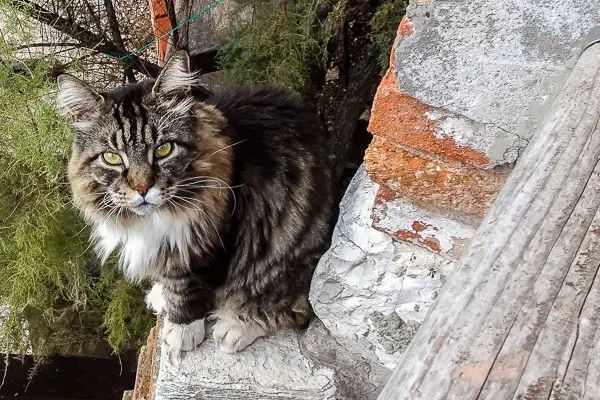 ABOVE: A Maine Coon cat makes a cameo appearance in Cannaregio.
---
Cannaregio:
From the main pedestrian route from the railroad station to the Piazza San Marco, turn left (north) at the Ponte delle Guglie and follow the eastern side of the Cannaregio Canal until you reach an area of vaguely modern public housing.

Head inland and look for a small bridge to the Fondamenta Carlo Coletti.

Continue walking on this long canalside promenade, which will change names several times. The fondamenta is seldom crowded, even during the main tourist season, and you can easily wander off it to explore even quieter parts of the neighborhood to your north.
---
Dorsoduro: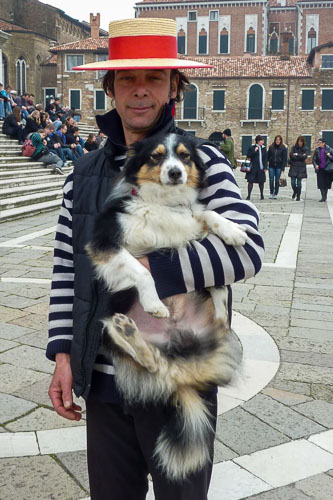 ---
Head for the Zattere, a broad promenade along the Giudecca Canal.

Walk to the tip of the Dorsoduro, then continue around the tip (past the historic Dogana or Customs House) and follow the obvious walking route until you're back near your starting point.

For an even less touristed route (or if you're staying near the Piazzale Roma), use your tourist map to reach the peaceful neighborhoods behind the San Basilio cruise terminal. (The small quarter of Santa Marta is a neighborhood where tourists hardly ever go.)
---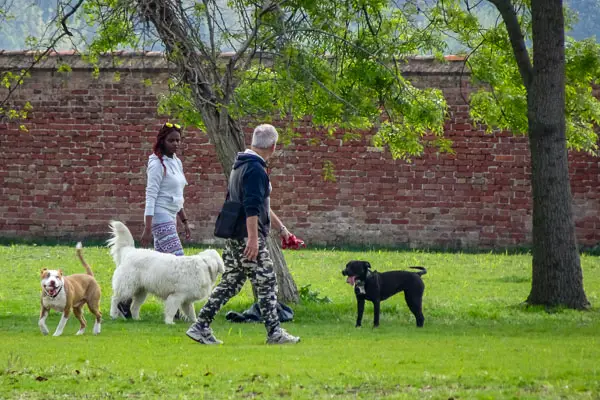 ABOVE: A couple and their dogs enjoy an outing on the small island of La Certosa, which lies off the eastern tip of central Venice.
---
La Certosa:
The island of La Certosa is home to Venice's largest marina. It has plenty of grass, and locals often go there to let their dogs run free.

To reach La Certosa, take the 4.1 or 4.2 waterbus route from San Pietro di Castello or Sant'Elena. (The ride is short but expensive. To save money if you're using the vaporetto frequently, buy a 24-hour to 7-day ACTV tourist pass.)
---
La Giudecca:
This long, narrow island lies across the Giudecca Canal from Venice's historic center. It has only a few tourist attractions (such as the Redentore Church), but it's great for dog-walking because it offers pleasant views of central Venice without crowds.

You can reach La Giudecca from multiple ACTV vaporetto stations along the Zattere (see our Dorsoduro itinerary above), and the trip across the Giudecca Canal takes only a couple of minutes.
---
Also see: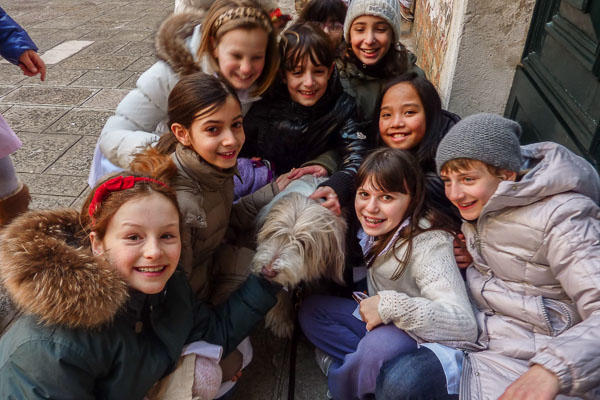 ---
Maggie in Venice
Our archived blog about the adventures of an American Bearded Collie in Venice is worth reading, or at least browsing, if you're as crazy about dogs as we are.
---