Hotel Ai Due Fanali
Hotel Review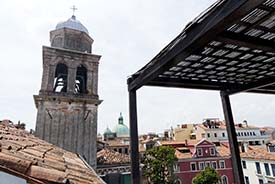 ABOVE: A view from the rooftop terrace of the Hotel Ai Due Fanali. (The bell tower of the church is attached to the hotel.)
For years, Cheryl and I have walked past the Hotel Ai Due Fanali (sometimes referred to as the Hotel San Simeon Ai Due Fanali) and admired its nearly perfect location.

The small three-star hotel--along with two four-star hostelries, the Ca' Nigra Lagoon Resort and Hotel Canal Grande--is on the Campo San Simeon Grande, a quiet tree-shaded square that faces directly onto the Grand Canal. The campo is one of the most romantic spots in Venice, yet it's only a five-minute walk from the railroad station and a 10-minute walk from the airport buses, taxis, and cruise-ship shuttle buses in the Piazzale Roma.

Recently, I had two nights to spend on my own in Venice, so I reserved a room at the Hotel Ai Due Fanali through our discount booking partner. In this review, I'll describe my experience at the hotel, share photos and videos, and provide directions to the Hotel Ai Due Fanali from both the Venice railroad station and the Piazzale Roma.
How to book:
Although you can reserve directly with the hotel or from any number of other booking services, I strongly recommend using Venere for two reasons: (1) We get a small commission if you book through our partner link, and (2) there's a good chance that you'll save money, as I did while staying at the Hotel Ai Due Fanali during one of Venice's most popular festivals.
To compare rates, see Booking.com's Hotel Ai Due Fanali pages (which include guest reviews) and the hotel's own Web site.
Next page: My room: 303
---