Venice > Where to stay > Grand Canal hotels
Hotels on the Grand Canal
We've put together a list of 43 hotels, B&Bs, and a hostel that face Venice's most beautiful waterway.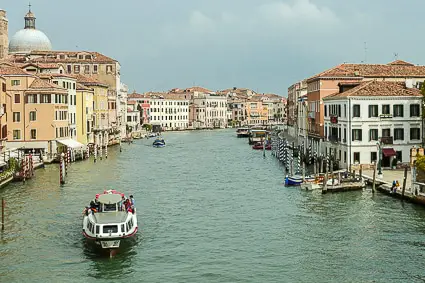 ABOVE: The Hotel Canal Grande (white building on right) overlooks both the Grand Canal and a pretty waterside square. It's less than 10 minutes on foot from trains, airport buses, and taxis, but you can arrive or depart by water taxi if you feel like splurging.
---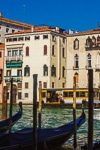 The Grand Canal isn't just a tourist magnet: It's also the main street of Venice's historic center, with scores of handsome palazzi and other buildings (some dating back to the 13th Century) lining both sides of the S-shaped waterway.
During the day, the Canal Grande is a lively thoroughfare with water buses, delivery barges, police boats, ambulances, gondolas, private boats, and other vessels cruising along its 3.8-km (2.4-mile) length. After dark, the canal can be almost eerily quiet except for the slapping of moored boats against pilings when the occasional vaporetto passes the dimly-lit palaces with their glowing windows.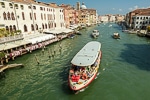 Given the magical nature of the Grand Canal, it's no wonder that many visitors dream of staying at hotels or B&Bs that overlook the water. Perhaps you're among them. If so, we have good news: There are more than 40 hotels and guesthouses along the Grand Canal--and while a few are in the five-star luxury category, you can also book a room (or even a bed) in more affordable accommodations if you know where to look.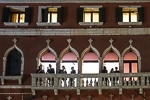 In this guide, we describe dozens of hotels, guesthouses, and a hostel--many with links to our Venice Hotel Directions pages, and all with links to Europe's No. 1 reservations service, Booking.com, where you can read guest reviews and check prices for the dates of your planned visit. We also show how you can reach the hotels (for example, by Alilaguna airport boat or water taxi).
How we've grouped our listings: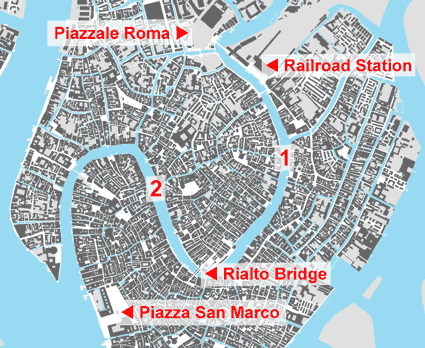 This map shows important locations along the Grand Canal, which curves like a snake from the Piazzale Roma to St. Mark's Basin (the body of water next to the Piazza San Marco). The Rialto Bridge is the canal's midpoint.
For easier navigation, we've grouped hotels and other lodgings on two distinct pages:
1 Piazzale Roma/Railroad Station to Rialto Bridge
2 Rialto Bridge to Piazza San Marco
To explore our detailed guide, continue to the next page or use the menu below.
Next page: Piazzale Roma/Railroad Station to Rialto Bridge (24 hotels)
---
---
---
MAP CREDIT: Basemap data is from the Comune di Venezia and Regione Veneto, using license IODL-2.0.
---
About the author:

Durant Imboden has written about Venice, Italy since 1996. He covered Venice and European travel at About.com for 4-1/2 years before launching Europe for Visitors (including Venice for Visitors) with Cheryl Imboden in 2001.

PC Magazine has called this "the premier visitors' site for Venice, Italy." Over the years, it has helped more than 30 million travelers. For more information, see About our site, our Europe for Visitors press clippings, and our reader testimonials.
---