A barge loaded with bottles of cooking gas prepares to cast off from a quay near the Basilica of Santi Maria e Donato.
---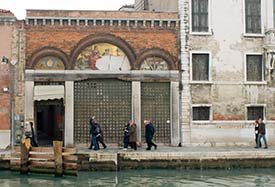 Not far away, tourists approach a glass factory and showroom where a decaying mural of gilded glass mosaic fills the arches above the entrance.
---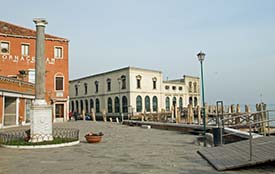 Head left from the Colonna waterbus stop, and you'll encounter signs for a glass factory that offers free glassblowing demonstrations.
---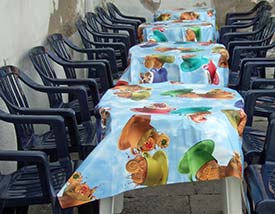 Coffee and cookies are the theme of this café's colorful tablecloths.
---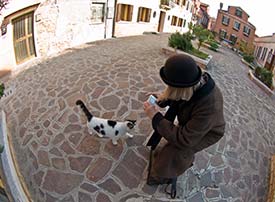 A lady in a hat meets a cat in a residential square.
---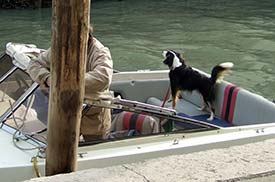 Some dogs were born for boating....
---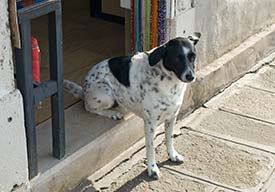 ...while others prefer to relax on land.
---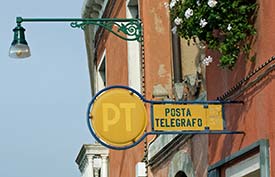 A post office...
---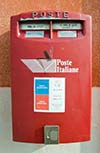 a letterbox...
---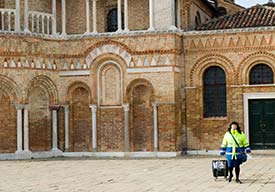 ...and a postal carrier ensure that mail is collected and delivered on Murano.
---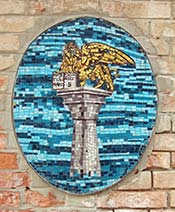 Venice's winged lion has a counterpart on a Muranese wall.
---
A wingless version of the leoni gnaws on a doorknocker.
---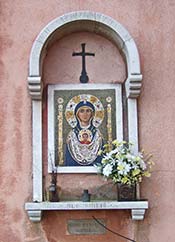 A Byzantine-style Madonna occupies center stage in an outdoor shrine.
---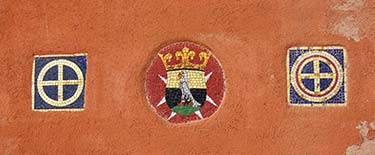 Decorations of mosaic tile enliven an otherwise blank stucco wall.
Back to: Murano, the Glass Island