Venice > Sightseeing > Islands tour
Venice Islands Tour
Plan a self-guided day trip in the Venetian Lagoon, using public water buses.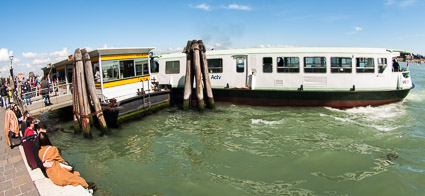 ABOVE: Your excursion begins at the Fondamenta Nove waterbus station, which faces the Venetian Lagoon on the northern edge of the historic center.
---
If you're spending more than a few days in Venice, allow time to visit the islands of the Venetian Lagoon.
The itinerary in this article will take you to:
You'll reach the islands on water buses operated by ACTV, the Venice public-transportation company. Allow a full day for the entire excursion, or half a day if you skip San Michele and the Lido.
ACTV's lagoon water buses can be crowded during peak season, on weekends, or if local groups of senior citizens or schoolchildren are traveling between the islands.
If crowds bother you, or if you're unwilling to stand on a moving boat when seats aren't available, consider one of these alternatives:
Take an escorted tour of Murano, Burano, and/or Torcello. Such tours are more expensive than a tour by public transportation, but they're worth considering if your schedule is tighter than your budget. The trips are offered by Viator, our sightseeing-tour partner. An even better choice is a walking tour with Discover Burano, owned by Burano native Silvia Zanella.

Hire a water taxi by the half-day or day, which could easily cost several hundred euros. If you want the services of a private guide, try a customized lagoon itinerary from WalksInsideVenice or the Venice Tourist Guides Association and let the guide arrange transportation.
Tips: