San Clemente Palace Kempinski Hotel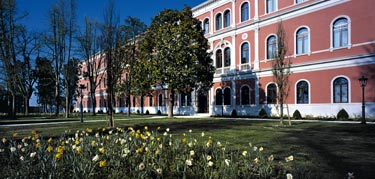 ABOVE: Façade of the Clemente Palace Hotel. INSET: Path from the boat landing and main entrance.
An island hotel in the Venetian Lagoon

The San Clemente Palace Kempinski is one of the most unusual hotels in Venice. The five-star luxury property occupies the site of the former Camaldolesi Monastery on the 17-acre island of San Clemente in the Venetian Lagoon. The hotel, which opened in 2003 and went into hibernation in 2012, is open again--most recently, under the management of the international Kempinski hotel group.
The San Clemente Palace welcomes individual guests, groups, and conferences. It's especially appealing in the summer months, when the tranquil island offers a respite from the heat and crowds of Venice's historic center.
Next page: The island of San Clemente
---
---