San Clemente Palace Hotel
Page 9
Continued from page 8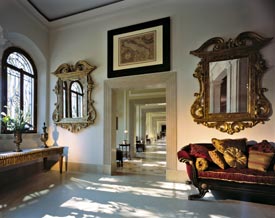 ABOVE: Lobby of the San Clemente Palace.
How to book a room or suite
To check prices, read guest reviews, or make a reservation, see the San Clemente Palace pages at Booking.com, which offers "guaranteed lowest rates" at several hundred hotels in Venice.
(Booking.com is our main hotel-reservations partner. It's also the No. 1 secure reservations site in Europe.)
The St. Regis San Clemente Palace also has its own Web site, which you should consult if you're organizing a wedding, a conference, or another group event.
Back to: San Clemente Palace- Page 1
---
---