Venice > Food & drink > Taverna San Trovaso
Taverna San Trovaso
Restaurant Review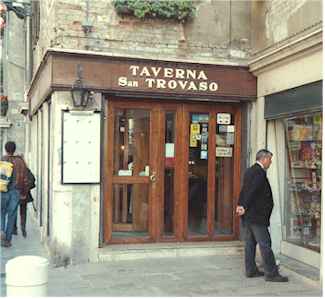 The Venice restaurant spectrum could be diagrammed in two ways: from expensive to cheap, or from tourist restaurants to neighborhood eateries. On either graph, the Taverna San Trovaso in Dorsoduro would fall somewhere in the middle--which may be the secret of its popularity with locals and visitors alike. (We've been going to the Taverna San Trovaso since the mid-1990s, and the restaurant has been around considerably longer than that.)
Food
Like many moderate-priced Venice restaurants, the Taverna San Trovaso offers pizzas and a full à la carte lunch or dinner menu. Although there's nothing wrong with the pizzas, it would be a shame to pass up the San Trovaso's excellent gnocchi al quattro formaggi, grilled fish specialties, or local favorites such as seppia alla veneziana (cuttlefish in its own ink) and frittura mista di pesce (fried seafood platter). While the cuisine may not be on a par with the top restaurants in town, it rates a solid B to B+ within its price category.
Atmosphere
The San Trovaso attracts a mixed clientele of local residents, university students, and foreign visitors. One night, we found ourselves seated near a dozen students who were celebrating a birthday; other tables were occupied by Italian couples and families. On another night, the diners next to us were a pub owner and his wife from England.
The downstairs is cozy, with booths and small tables; the upstairs dining room is brighter and more open, with tables that can be arranged for larger groups. Both areas are pleasant, and you needn't feel that you're being relegated to Siberia if you're sent upstairs.
Prices
The Taverna San Trovaso's prices are mostly low (for pizza) to moderate (for à la carte items).
Like most Italian restaurants, the Taverna San Trovaso adds a "coperto" or cover charge for cutlery, table linens, and bread. This charge is legitimate and is not a substitute for a tip.
Next page: Directions to the restaurant
---
---
About the author:

Durant Imboden has written about Venice, Italy since 1996. He covered Venice and European travel at About.com for 4-1/2 years before launching Europe for Visitors (including Venice for Visitors) with Cheryl Imboden in 2001.

PC Magazine has called this "the premier visitors' site for Venice, Italy." Over the years, it has helped more than 30 million travelers. For more information, see About our site, our Europe for Visitors press clippings, and our reader testimonials.
---