Venice Cruise Port Transportation
Getting to your ship from Venice's Marco Polo Airport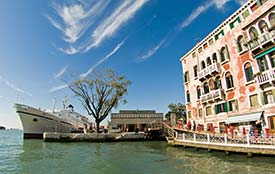 ABOVE: San Basilio (the smaller of Venice's two main cruise  terminals) is next to a vaporetto stop. INSET BELOW: The quays at Marittima.
---
Cruise Transfers by private water taxi
Our excursions partner, Viator, offers departure transfers from Venice hotels to the Marittima or San Basilio cruise piers by private water taxi. Arrival transfers are also available. (Select the flag icon at the top of Viator's page for prices in four different currencies.)
---
By Durant Imboden
If you're boarding a cruise ship in Venice, the simplest way to get between the airport and the ship is to buy a transfer from your cruise line. This can be expensive, however, and many passengers resent having to pay hefty prices for a 20-minute ride by chartered coach. In this article, we'll tell you how to reach the cruise terminals on your own by bus or land taxi and by boat or water taxi.

Before deciding how to reach the cruise terminal, you'll need to know where to sign in for your cruise. Large cruise vessels (larger than 25,000 GRT) normally use the main Marittima terminals for check-in, with buses transporting passengers to piers on the Italian mainland.
Smaller ships often moor at Marittima or use San Basilio and its neighboring pier of Santa Marta.
Important:
Next page: By land: Airport buses and taxis
---
---
---