Transportation from the Venice Cruise Port (2021)
How to reach Venice's airport, railroad station, hotels, and historic center from the cruise terminals.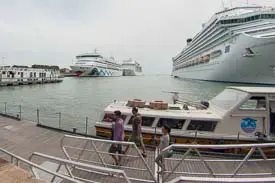 In another Venice for Cruisers article, we describe Transportation to the Port of Venice, a.k.a. getting to your ship. This article is about something different: how to reach Marco Polo Airport or Venice's city center after disembarking from a cruise ship.
First, an overview:
The Port of Venice has two main cruise terminal areas, the Stazione Marittima basin (used primarily by mid-size and large ships) and the San Basilio pier (reserved for small ships, mid-size ships when the main basin is at capacity, and the occasional yacht or hydrofoil ferry.)

In addition, the Sette Martiri or "Seven Martyrs" waterfront mooring above the Piazza San Marco is often used by visiting ships and river vessels that aren't beginning or ending cruises in Venice.
Now for an important warning:
If you're catching a plane on your day of arrival, allow plenty of time to get off the ship, pick up your luggage, and get to the airport. (We'd suggest at least four hours, and preferably five.)

Even if your ship arrives by 7 a.m., you may not be able to disembark until 9 or 9:30, and you should allow a minimum of two and a half hours to check in for your flight, go through security, and reach the gate at Venice's frequently-chaotic Marco Polo Airport. (If you're departing from Treviso Airport, allow even more time, because Treviso is a reasonable distance from Venice.)



Our advice:

If you're worried about missing your flight, purchase a bus transfer from your cruise line. It won't be cheap, but you'll be able to go directly from your ship's pier to the airport, and the cruise line will be responsible for making sure that you reach the airport on time.
On the following pages, you'll find detailed advice on ground transportation from the Stazione Marittima, San Basilio, and Sette Martiri cruise piers. Also see our More Resources page, which will point you to other useful transportation articles at Venice for Visitors.
Next page: From Stazione Marittima
---
---