Venice > Cruises > Ports (with maps)
Venice Cruise Ports (with maps)
Not all "Venice" cruise itineraries actually use the port of Venice. In this article, we'll show you what to expect.
ABOVE: Before booking a cruise to or from Venice, confirm that the ship is actually calling at (or near) Venice and not at a less convenient port between Trieste and Ravenna.
---
---
Venice, Italy used to be the largest cruise port in the Eastern Mediterranean, thanks in part to its long history as a maritime republic and shipbuilding colossus. That changed in 2021, when the Italian government responded to political pressures by banning all but the smallest passenger ships from central Venice.
Today, a "Venice" cruise embarkation, disembarkation, or port call could take place at any number of small cities and industrial areas along the northern Adriatic coast between Trieste and Ravenna.
In this article, we'll show maps and give brief descriptions of these port locations. Read your cruise documentation carefully and confirm your ship's exact location with the cruise line if you're uncertain about where your ship will be berthed.
---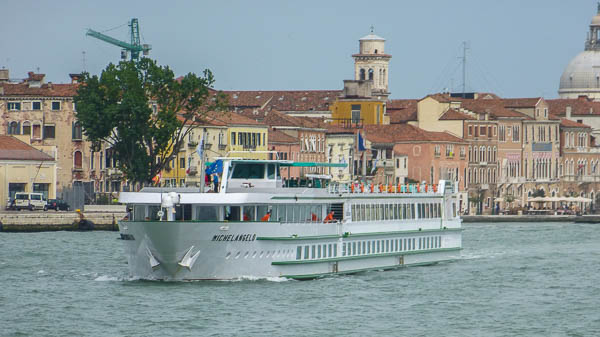 ---
Note: Even though medium-size and large ships are often moored far from central Venice, the cruise lines may use central Venice's cruise terminals as check-in and arrival points. If that's the case with your cruise, you'll be taken to or from your ship by shuttle bus. (However, if the pier is a couple of hours away--in Ravenna or Trieste, for example--you may need to book a paid transfer with your cruise line or get to the port on your own.)
Below are maps and brief descriptions of the ports that are now being used for cruises that begin, end, or include a port call in "Venice."
---
In the map above, you can see three locations inside the Venetian Lagoon:
Venice's Marittima cruise basin and San Basilio/Santa Marta cruise terminal (at the edge of Venice's historic center, near the right side of the map).

The industrial port of Marghera, on the Venetian mainland (about a 15-minute ride by taxi or shuttle bus from Venice's Piazzale Roma).

Fusina, to the south of Marghera, which serves the Anek car ferries to Greece but is also has facilities for cruise ships.
In most cases,  check-in and other formalities for larger ships are handled at terminals in the Marittima basin, with shuttle buses whisking passengers to and from the piers.
Small ships (typically below 25,000 GRT), including river vessels from Uniworld and CroisiEurope, continue to moor at either the Marittima basin or the adjacent San Basilio/Santa Marta piers in central Venice.
---
The town of Chioggia (pop. 50,000) lies at the southern end of the Venetian Lagoon, alongside one of the lagoon's three inlets from the Adriatic Sea. Chioggia has been nicknamed "Little Venice" because its old town has canals like its larger neighbor to the north.
Chioggia welcomes river vessels (Uniworld and CroisiEurope) and a hotel barge, La Bella Vita. In the wake of Italy's 2021 embargo on most cruise ships in Venice, Chioggia has also served a handful of oceangoing vessels. Ships normally tie up at a pier in the northwest corner of Chioggia's Centro Storico or old town (see map).
Chioggia is slightly more than an hour from Venice by car, taxi, coach, or  bus. If you don't mind schlepping your luggage or hiring a cab from the end of the line to the pier, you might try ArrivaVeneto's frequent and reasonably priced bus service to Chioggia Sottamarina from Venice's Piazzale Roma, the Venezia Mestre train station, and Venice Marco Polo Airport.
---
Ravenna (pop. 160,000) is best known for its Byzantine mosaics, which date back to the 5th and 6th Centuries. However, the city does have a port on its northern outskirts, and a new cruise terminal is becoming the Eastern Mediterranean hub for Royal Caribbean and its subsidiary, Celebrity Cruises.
From Venice, a cruise transfer by bus or private car takes about 2-1/2 hours. (There's no direct train, although you can get from Venezia Santa Lucia railroad station to central Ravenna with a change of trains in Ferrara.)
In the map above, you can see the port to the northeast of the city. Cruise ships moor at the Porto Corsini, just inside the port entrance from the Adriatic Sea. Click here for advice on transportation between downtown Ravenna and the pier.
---
Monfalcone is northeast of Venice on the way to Trieste (see below), about an hour and a half from Venice by bus, car, or train. The town is mostly known for shipbuilding and other heavy industries, but MSC Cruises occasionally uses Monfalcone as a turnaround port.
On the map, you'll see the cruise quay just inside the port entrance.
---
Trieste is a major international port at the far northeastern corner of the Adriatic, close to Italy's border with Slovenia. It was an important city in the Austro-Hungarian Empire and still has a Central European vibe.
Cruise ships aren't newcomers to Trieste, but the number of ships has increased after the banning of large cruise vessels from Venice.
Trieste is roughly 165 km or 100 miles from Venice, but getting there is easy:
Fast trains from Venezia Santa Lucia take just over two hours to reach Trieste's central station.
Flixbus offers several connections per day from Venice, Mestre, and Venice Marco Polo Airport. Travel time is about 2-1/2 hours.
From the train or bus station, you can walk or hire a taxi to the cruise pier, which is located on the downtown waterfront near the Piazza Unità d'Italia.
---
---
About the author:

Durant Imboden has written about Venice, Italy since 1996. He covered Venice and European travel at About.com for 4-1/2 years before launching Europe for Visitors (including Venice for Visitors) with Cheryl Imboden in 2001.

PC Magazine has called this "the premier visitors' site for Venice, Italy." Over the years, it has helped more than 30 million travelers. For more information, see About our site, our Europe for Visitors press clippings, and our reader testimonials.
---