Venice > Cruises > Port changes
Cruising in Venice: Port changes in 2022
Last year, the Italian government banned  all but the smallest  cruise ships from central Venice. In 2022, most ships will depart and arrive at Marghera (an industrial district) and other locations on the Italian mainland.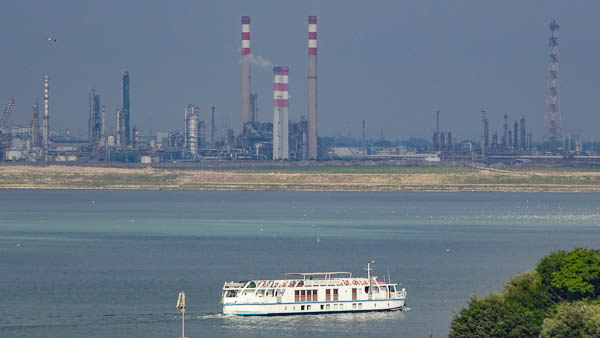 ABOVE: A small ship, La Bella Vita of European Waterways, cruises in the Venetian Lagoon with Marghera's industrial waterfront as a backdrop.
Updated April, 2022
The Italian government announced on July 12, 2021 that all cruise ships (except small boutique ships and river vessels) were being banned from central Venice, including the existing cruise port.
The government's claimed long-term goal is to create a new artificial harbor and cruise port on the Adriatic at some unstated (and probably imaginary) time in the future, with ships using the mainland industrial and petrochemical port at Marghera until a new port is built.
What's happening in 2022:
So what does this mean for you if you were hoping to cruise from Venice on a medium-size or large passenger ship in 2021 or 2022? That depends on whether your cruise ship meets the requirements for mooring in the city center.
The new ban applies to ships that are are larger than 25,000 GRT,  are greater than 180 meters in length, are taller than 35 meters, or have "a production exceeding 0.1% of sulfur." If your ship exceeds those limits, it will need to moor on the mainland. (Some cruise lines have moved their operations altogether: For example, Royal Caribbean has moved its "Venice" sailings to Ravenna, and Costa is using the distant port of Trieste in 2022.)

If your ship is smaller and more "green," it will be able to cruise from the Marittima or San Basilio/Santa Marta terminals in central Venice (as in the past).
Where to check in for your cruise:
In most cases, large-ship passengers will continue to check in at the Marittima cruise basin, just as before. The only difference is that, after you've checked in, you'll be bused to a pier on the mainland where your ship will be waiting for you. This means you can continue to stay at cruise hotels in central Venice and use the inexpensive People Mover to reach the Marittima cruise basin.

But don't take our word for it! The situation is very fluid, so read your cruise documentation carefully and check with your cruise line if you aren't sure where to check in.