Cruising in Venice: What's changing in 2021-2022
Don't believe the hype that you read about cruise ships being banned from central Venice. Talk is cheap, but the Italian government has yet to come up with firm plans (or cash) to build a new port outside the city.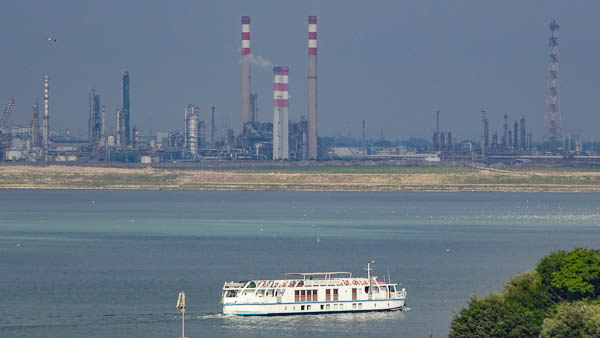 ABOVE: A small ship, La Bella Vita of European Waterways, cruises in the Venetian Lagoon with the Marghera industrial zone as a backdrop.
The Italian government announced on April 1, 2021 that large cruise ships are being banned from central Venice, including the existing cruise port.
The government's stated goal is to create a new artificial harbor and cruise port on the Adriatic at some unspecified time in the future, with ships using the mainland industrial port of Marghera (opposite Venice' s historic center) until a new port is built.
There are at least five major problems with this proposed solution:
First, the industrial ship channel that leads to Marghera isn't deep or wide enough for large cruise ships, and dredging it would be (a) massively expensive, (b) environmentally detrimental to the Venetian Lagoon, and (c) prohibited by law.
Second, the Marghera industrial port will require a new terminal and other infrastructure to support cruise ships.
Third, Italian law forbids operating passenger services in polluted or high-risk industrial areas such as the Marghera port.
Fourth, the Italian government has not committed to financing a new port on the Adriatic. Talk is cheap--especially in Italy, where various political and NIMBY groups have been fighting over the port for more than a decade.
Finally, Italian governments are notorious for being short-lived, and future governments won't necessarily abide by the current government's announcement.
(Side note: Proponents of a new cruise port want to locate it on the Lido di Venezia, Venice's beach resort. This idea is nothing short of idiotic, since the Lido is an island that can only be reached by passenger boat or car ferry, making it impractical for provisioning large cruise ships.)
What's happening in 2021:
Cruise lines' plans in general are in flux right now, due to the COVID-19 pandemic. However, MSC Cruises has also announced that of its ships will be sailing from Venice this summer, and other lines will almost certainly follow MSC's lead as the industry returns to normal.
It's also worth noting that the government's supposed plans won't affect cruise ships under 40,000 tons.
A few changes have been announced: Royal Caribbean is reportedly shifting its home port in the region from Venice to Revenna (a far less convenient location for cruisers), and Costa will use Trieste for some of its cruises this summer.
For the most part, however, it appears that Venice will continue to be a major cruise port for small, medium, and large ships until further notice.
Our advice, if you're planning a cruise to or from Venice:
Take the recent news stories with a grain of salt, and rely on your cruise line to tell you where your ship will be docked.