Venice > Cruises > Changes 2021-2022
Cruising in Venice: What's changing in 2021-2022
The Italian government has just banned the majority of cruise ships from central Venice. In the future, most ships are supposed to dock in the industrial zone of Marghera (on the Venetian mainland), but it remains to be seen if the new "temporary" port will be ready by 2022.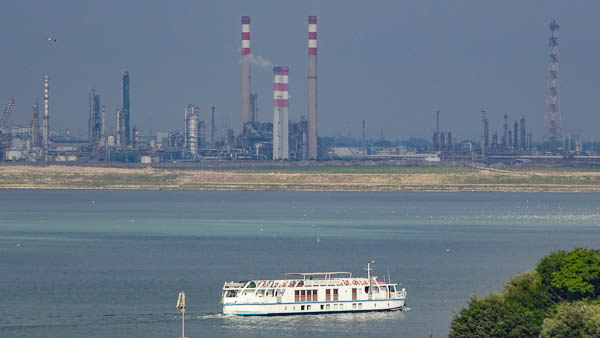 ABOVE: A small ship, La Bella Vita of European Waterways, cruises in the Venetian Lagoon with Marghera's industrial waterfront as a backdrop.
Updated July 23, 2021
The Italian government announced on July 12, 2021 that all cruise ships (except small boutique ships and river vessels) are being banned from central Venice, including the existing cruise port.
The Draghi government's stated goal is to create a new artificial harbor and cruise port on the Adriatic at some unspecified time in the future, with ships using the mainland industrial and petrochemical port of Marghera (opposite Venice's historic center) until a new port is built.
There are at least five major problems with this decree:
What's happening in 2021 and 2022:
Cruise lines' plans in general are in flux right now, due to the COVID-19 pandemic. The latest word is that medium-size and large cruise ships won't pass through St. Mark's Basin and the Guidecca Canal after August 1.
The new rule applies to ships that (a) are larger than 25,000 GRT, (b) are greater than 180 meters in length, (c) are taller than 35 meters, or (d) have "a production exceeding 0.1% of sulfur."
---

---
So what does this mean for you if you were hoping to cruise from Venice on a medium-size or large passenger ship in 2021 or 2022? As far as we can tell, you'll be out of luck unless:
Our advice, if you're planning a cruise to or from Venice: