Venice > Cruises > Changes 2021-2022
Cruising in Venice: What's changing in 2021-2022
The Italian government recently banned the majority of cruise ships from central Venice. In the future, most ships are supposed to dock in the industrial zone of Marghera (on the Venetian mainland), but it remains to be seen if the new "temporary" port will be ready for a full schedule of cruises by 2022.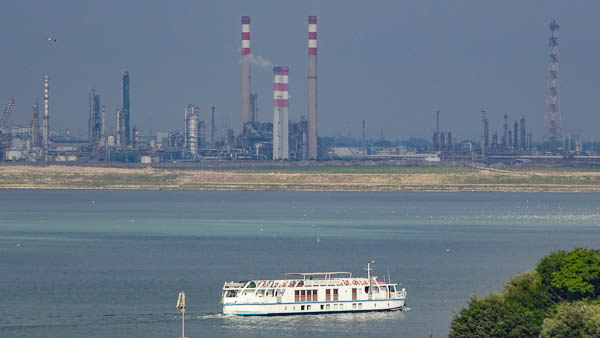 ABOVE: A small ship, La Bella Vita of European Waterways, cruises in the Venetian Lagoon with Marghera's industrial waterfront as a backdrop.
Updated November 22, 2021
The Italian government announced on July 12, 2021 that all cruise ships (except small boutique ships and river vessels) are being banned from central Venice, including the existing cruise port.
The Draghi government's stated goal is to create a new artificial harbor and cruise port on the Adriatic at some unspecified time in the future, with ships using the mainland industrial and petrochemical port of Marghera (opposite Venice's historic center) until a new port is built.
There are at least five major problems with this decree:
The Canale di Petroli or "Oil Channel" that leads to Marghera isn't deep or wide enough for large cruise ships, and dredging it will cause environmental damage to the Venetian Lagoon in two ways: (1) It will accelerate tidal flows within the lagoon, and (1) it will stir up heavy metals and other toxic sediments that have accumulated in the industrial channel over the last 50+ years.

The Marghera industrial port will require a new terminal and other infrastructure to support cruise ships.

Italian law forbids operating passenger services in polluted or high-risk industrial areas such as Marghera's petrochemical port.
The Draghi government has not actually committed to funding a new port on the Adriatic. Talk is cheap--especially in Italy, where various political and NIMBY groups have been fighting over the port for more than a decade.

Italian governments are notorious for being short-lived, and future governments won't necessarily abide by the current government's announcement. (Italy has had more than 65 governments since World War II, with an average lifespan of 13 months.)

Side note: Proponents of a new cruise port want to locate it on the Lido di Venezia, Venice's beach resort. This idea is nothing short of idiotic, since the Lido is an island that can only be reached by passenger boat or car ferry, making it impractical for provisioning large cruise ships.
What's happening in 2021 and 2022:
Cruise lines' plans in general are in flux right now, due to the COVID-19 pandemic. As of fall, 2021, 10 ships had already been rescheduled for either industrial piers in Marghera or the ro-ro cargo terminal in Fusina ( a smaller port facility near Marghera on the Venetian mainland). A number of smaller ships (all below 25,000 GRT) were still scheduled for the main cruise basin in central Venice.
So what does this mean for you if you were hoping to cruise from Venice on a medium-size or large passenger ship in 2021 or 2022? That depends on whether:
Your cruise ship meets the requirements for mooring in the city center. The new ban applies to ships that are are larger than 25,000 GRT,  are greater than 180 meters in length, are taller than 35 meters, or have "a production exceeding 0.1% of sulfur." If your ship exceeds those limits, it will need to moor on the mainland, and your cruise line will need to provide a shuttle bus or other transportation to the pier.

Your cruise line comes up with a temporary or permanent alternative port. (For example, Royal Caribbean has shifted its home port in the region from Venice to Revenna--more than two hours from Venice by road or rail. Costa has moved its Venice sailings to Trieste until further notice. Norwegian has no 2021 departures from Venice and has made no alternative plans for 2022. And a Holland America Line passenger recently told us about his maddening experience with a rescheduled Eurodam diversion to Trieste.)
Our advice, if you're planning a cruise to or from Venice:
Keep in touch with your cruise line. If you've booked an itinerary to or from Venice on anything other than a small oceangoing ship or river vessel, check with the cruise line to learn the status of your voyage and what arrangements are being made for existing Venice passengers.