Venice > Hotel directions > Hotel Ai Mori d'Oriente
Walking directions to Hotel Ai Mori d'Oriente (with map)
Click button for lowest available rates and guest reviews: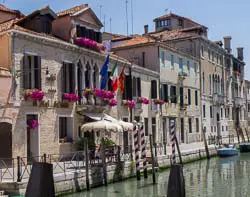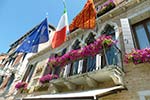 The Hotel Ai Mori d'Oriente is a four-star hotel in Venice's Cannaregio district, facing the Rio della Sensa canal.
The location is pleasant and away from the tour-group crowds, with a number of attractive restaurants and bars scattered along the broad sidewalks or fondamente of the neighborhood.
How to reach the Hotel Ai Mori d'Oriente from the Madonna dell'Orto airport-boat stop (Alilaguna Linea Arancio):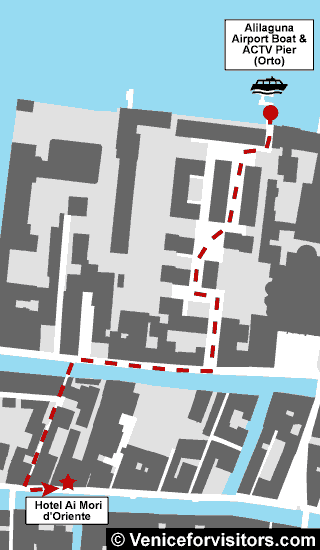 From the Madonna dell'Orto vaporetto stop (which is used by the Alilaguna Orange Line airport boat), reaching the Hotel Ai Mori d'Oriente on foot is easy and quick:
As you leave the boat pier, walk straight ahead on the street that leads inland. The street will fork and jog around a building or two, but don't worry: Just keep going forward until you reach a canal.

At the canal, turn right and walk to the first bridge.

Cross the small bridge and walk straight ahead, down the Calle Loredan, to the next canal.

Turn left and walk a short distance on the Fondamenta Sensa (which runs alongside the canal). The Hotel Ai Mori d'Oriente will be just ahead of you, facing the water.
For a video preview of your walk, click below:
Click button for lowest available rates and guest reviews:
---
---
---