Walking directions to Hotel Al Ponte Mocenigo (with map)
Click button for lowest available rates and guest reviews:

The two-star Hotel Al Ponte Mocenigo is tucked away in a narrow street in Santa Croce, just a few meters inland from the San Stae airport-boat and vaporetto stop. The neighborhood is less touristed than most, despite being fairly close to Venice's most central location: the Rialto Bridge.
The hotel's ten rooms are decorated in a traditional Venetian style, with plenty of exposed ceiling beams, brocade wall coverings, and Murano glass. Al Ponte Mocenigo also has a private courtyard (where breakfast is served in warm weather) a Turkish bath, and free Wi-Fi.
How to reach the Al Ponte Mocenigo from San Stae (Alilaguna Linea Arancio):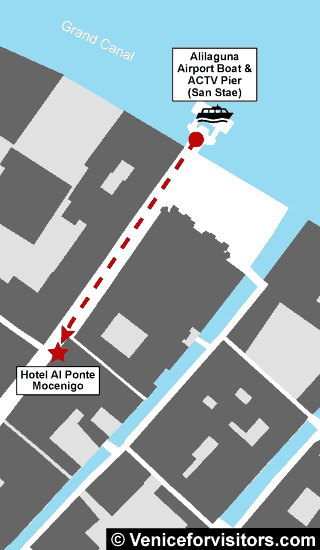 As you leave the boat pier, turn left and walk across the square in front of the church.

Turn right onto the Fondamenta Mocenigo and walk a short distance inland. You'll see a small private bridge on your right. Cross the bridge, and you'll be at the hotel's main entrance.
If you're traveling with heavy luggage and would prefer to avoid the tiny bridge, use this alternative route:
Go straight ahead down the Salita San Stae after stepping off the boat pier.

Turn left at the first cross street. (You'll see a tiny, faded sign for the hotel on the wall of a building at the corner.)

Ring the bell at the second door on the right (1984b) and wait for a hotel employee to let you in the side entrance.
Click button for lowest available rates and guest reviews:
---
---
---