Venice > Hotel directions > Hotel Alla Fava
Walking directions to Hotel Alla Fava (with map)
Click button for lowest available rates and guest reviews: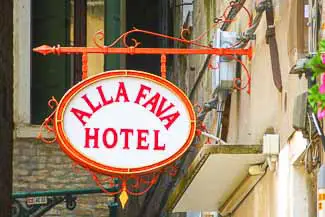 The Hotel Alla Fava faces the Campo della Fava, a small square next to the Rio della Fava canal. A church, the Chiesa di Santa Maria della Fava, lies just beyond the hotel entrance.
The hotel has 15 rooms (all with free Wi-Fi) that range from singles to quads. If you've got a few extra euros in your budget, we recommend splurging on a deluxe double with a canal view.
How to reach Hotel Alla Fava from the Alilaguna Linea Arancio airport-boat pier at Rialto: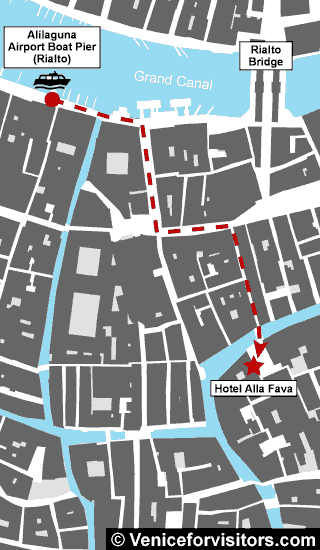 As you leave the boat pier, turn left. Cross the small bridge just ahead of you and walk through the arcaded passage until you see a Nicla clothing store.

Turn right into the Calle Larga Mazzini and walk straight ahead to the Campo del San Salvador, which has a memorial column in the street.

Turn left onto the Via 2 Aprile and walk a short distance to the Calle dei Stagneri o della Fava.

Turn right into the Calle dei Stagneri o della Fava and walk straight ahead. The Hotel Alla Fava is directly across the small bridge at the end of the street, on the right side of the Campo della Fava by the church.
Click button for lowest available rates and guest reviews:
---
---
---