Venice > Hotel directions > Hotel Ca' Nobile Corner
Walking directions to Hotel Ca' Nobile Corner (with map)
Click button for lowest available rates and guest reviews: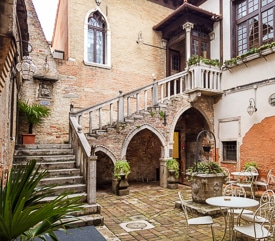 The three-star Hotel Ca' Nobile Corner is no more than five or ten minutes on foot from the San Basilio Cruise Terminal, with only one small bridge to cross. You'll enter the hotel through a courtyard on the Campo Santa Margherita, a large and pleasant neighborhood square with bars, cafés, restaurants, shops, a produce stall, and a fishmonger.
Tip: The Hotel Ca' Nobile Corner has only nine rooms, so book early if you can.
How to reach Hotel Ca' Nobile Corner from the San Basilio Cruise Terminal: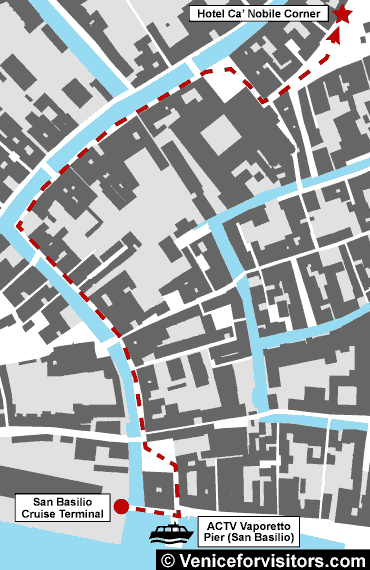 As you leave the main entrance of the cruise terminal, you'll see a small wooden bridge ahead of you. Cross the bridge. (This is the only bridge you'll need to cross.)

Walk a short distance to the first corner, near the ACTV vaporetto station, and turn left into the Calle del Vento.

Walk straight ahead, continue across a tiny square, and keep walking along the canal. Continue around the corner where the canal curves to the right.

After a few minutes, you'll reach a large square with a big church, the Chiesa di Santa Maria dei Carmini.

Cross the square and walk along the side of the church.

Turn left at the first corner, into the Calle de la Scuola. Continue into the Campo Santa Margherita.

Look for the entrance to the Hotel Ca' Nobile Corner on your left, facing the square. (It's a large wooden doorway just beyond a bar with a green awning labeled "Osteria alla Bifora." If the doorway is open, you'll be able to see into the courtyard.) Climb the single flight of stone stairs to the hotel lobby.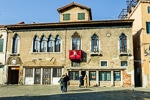 Click button for lowest available rates and guest reviews:
---
---
---