Venice > Hotel directions > Hotel Cavaletto & Doge Orseolo
Walking directions to Hotel Cavaletto & Doge Orseolo (with map)
Click button for lowest available rates and guest reviews: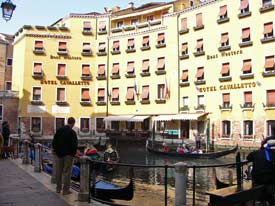 The Hotel Cavaletto & Doge Orseolo is a four-star hotel in a superb location: Many of its rooms overlook a large gondola basin, and the hotel is located just behind the Piazza San Marco.
The Cavaletto & Doge Orseolo's management claim that it's only a two-minute walk to their hotel from the Alilaguna Blue and Orange Line airport boats at San Marco Giardinetti. That figure may be optimistic, but the walk shouldn't take more than five minutes, with only one low bridge to cross.
How to reach the Hotel Cavaletto & Doge Orseolo from San Marco Giardinetti: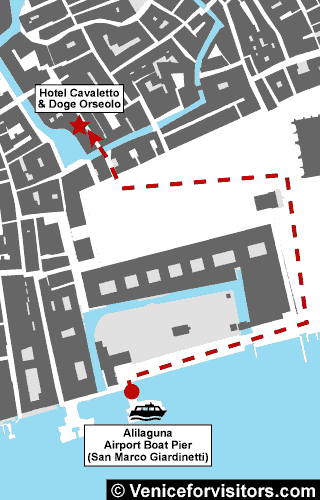 As you leave the Alilaguna boat platform, turn right and walk along the water. (Souvenir kiosks and a small public garden will be on your left.) You'll cross a low metal ramp over a canal.

At the Piazzetta (a large open space with two stone columns), turn left and walk into the Piazza San Marco.

Cross the Piazza San Marco to the arcades on the north side of the square. Go left under the arcades and look for a passageway with two arches.

Walk through the passageway (named the Sotteportego del Cavaletto) and cross the small bridge into the Calle Cavaletto.

The entrance to the Albergo Cavaletto e Doge Orseolo will be just ahead, on the left side of the street.
From the Marittima cruise terminals:
Take the Alilaguna Blue Line airport boat from the Marittima cruise basin to the San Marco Giardinetti waterbus stop.

Follow the directions above.
Click button for lowest available rates and guest reviews:
---
---
---