Venice > Hotel directions > Excess Venice
Walking directions to Excess Venice Boutique Hotel & Private Spa (with map)
Click button for lowest available rates and guest reviews: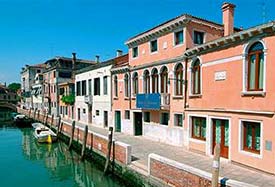 The four-star, 18-room Excess Venice Boutique Hotel & Private Spa (formerly the Hotel San Sebastiano Garden) has an excellent reputation, and its location is perfect if you're arriving or departing on a cruise ship at the San Basilio cruise terminal or its neighboring Santa Marta pier. From the terminal (inset photo at right), the hotel is just one small bridge and a couple of minutes away on foot.
Tip for cruisers: The hotel is small, so it's fully booked for the time of your visit, try the nearby Avogaria Locanda or the Hotel Tiziano (located about five minutes north of the San Basilio pier).
How to reach this hotel from the San Basilio cruise terminal: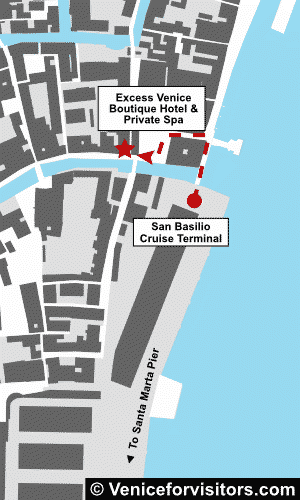 Leave the San Basilio cruise terminal by the main doors and walk straight ahead to the wooden bridge.

Cross the bridge and walk a short distance to the San Basilio vaporetto (water bus) stop.

Just across from the vaporetto stop, you'll see a narrow pedestrian street with a restaurant to the left of the Billa supermarket. Go down the street, which is named the Calle del Vento.

In about half a minute, you'll reach a small square with a bridge (the Campo San Basegio). Do not cross the bridge--instead, continue inland along the canal on the Fondamenta San Sebastiano.

The Excess Venice Boutique Hotel & Private Spa is just beyond the next bridge, facing the canal.
BELOW: Our YouTube video walking directions show how to reach the Excess Venice Boutique Hotel & Private Spa, formerly the Hotel San Sebastiano Garden, from the Zattere stop of the Alilaguna Blue Line airport boat. The video includes a bonus feature on how to reach the cruise terminal from the hotel (and vice versa).
From the Santa Marta pier:
Leave the secure port area through the gate at the west end of the pier.

Turn right and follow the road behind the pier until you reach the San Basilio Cruise Terminal. (The walk is over level ground but takes at least 10 minutes.)

On your left behind the cruise terminal, you'll see park benches, flowering bushes, and steps. Look for a ramp that leads down from the pier area.

Walk down the ramp and follow the directions above.
From airport buses and taxis at the Piazzale Roma:
Take the No. 2 vaporetto to San Basilio (indicated by the blue boat icon below the supermarket shopping cart on the map). Be sure to board a boat that's headed toward Zattere and San Giorgio Maggiore.

Follow directions 3, 4, and 5 above.
Click button for lowest available rates and guest reviews:
---
---
---