Venice > Hotel directions > Locanda de la Spada
Walking directions to the Locanda de la Spada (with map)
Click button for lowest available rates and guest reviews: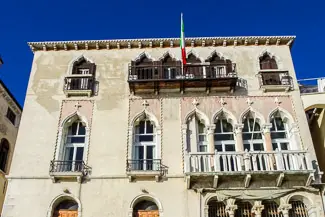 The Locanda de la Spada is a small, elegant family-owned hotel on the top floor of the Palazzo Contarin-Marin, which faces the Grand Canal in the San Marco district.
The hotel's decor is a blend of the historic and modern, with ornate plasterwork in some of the public areas and an attractive contemporary style in the guestrooms and suites (some of which have Grand Canal views).
Please note that the hotel does not have an elevator, which means you'll need to use the stairs to reach your room, where a porter will deliver your luggage.
How to reach the Locanda de la Spada from the Giglio airport-boat stop (Alilaguna Linea Arancio):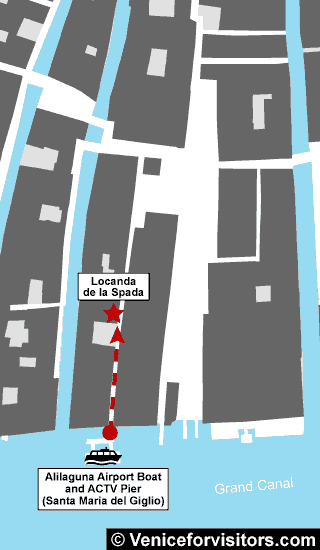 Although the Locanda de la Spada overlooks the Grand Canal, its entrance is slightly inland on the street that connects the Santa Maria del Giglio (a.k.a. "Giglio") waterbus pier with the Campo Santa Maria del Giglio. Here's how to reach the hotel from the Alilaguna Orange Line airport boat:
After leaving the water bus, follow the pier to the archway that leads inland from the Grand Canal.

Walk down the street (which is named the Calle Gritti).

Look for the Locanda de la Spada's glass-doored entrance on the left side of the street, about 50 meters or 55 yards from the boat landing.
For a video preview of your walk, click below:
Click button for lowest available rates and guest reviews:
---
---
---