Venice > Where to stay > Vacation rentals
Venice Apartments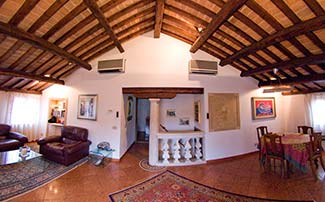 ABOVE: If you're staying in Venice for several days or longer, a vacation apartment can be an affordable alternative to a mid-priced hotel.
Increasingly, visitors to Venice and other European cities are staying in vacation apartments instead of hotels. There are several good reasons for joining the trend:
More space (a multi-room suite with a kitchen--and, often, a clothes washer--for the price of a hotel room);

Being able to eat in when you don't feel like going to a restaurant;

The experience of living like a local instead of being a tourist 24/7.
Vacation apartments work best when you're staying for at least several days, although a growing number of properties cater to overnight or short-term visitors with reception desks and other hotel-style amenities. To search for apartments and compare rates, follow the links to our affiliate partners below.
(When comparing rates, compare the total cost with all service and/or cleaning fees included.)
Booking.com: Venice Apartments our partner
Europe's No. 1 hotel reservations service offers secure bookings of apartments in Venice's historic center and resort towns nearby. Booking.com is an especially good choice if you're looking for a serviced apartment or an apartment hotel with staff on the premises.

Airbnb: Venice our partner
The world's leading short-term rental platform has hundreds of apartments and other holiday homes in Venice and the city's beach resort of Lido di Venezia. Some properties offer big discounts for stays of a month or more.
Before you arrive at your apartment, be sure to read:
Disclosure: We receive a small commission on rentals booked through our Airbnb and Booking.com affiliate links. (This won't affect your rate.)

Next page: More Venice Rentals