Venice Apartments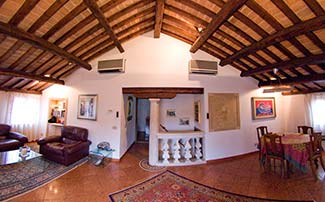 ABOVE: If you're staying in Venice for several days or longer, a vacation apartment can be an affordable alternative to a mid-priced hotel.
Increasingly, visitors to Venice and other European cities are staying in vacation apartments instead of hotels. There are several good reasons for joining the trend:
More space (a multi-room suite with a kitchen--and, often, a clothes washer--for the price of a hotel room);

Being able to eat in when you don't feel like going to a restaurant;

The experience of living like a local instead of being a tourist 24/7.
Vacation apartments work best when you're staying for at least several days, although a growing number of properties cater to overnight or short-term visitors with reception desks and other hotel-style amenities. To compare apartments and rates, follow the link below:
Booking.com: Venice Apartments our partner
Europe's No. 1 reservations service offers secure bookings of apartments in Venice's historic center and resort towns nearby. (For Venice proper, look for apartments in the districts of Cannaregio, Castello, Dorsoduro, San Marco, San Polo, Santa Croce, and on the island of Giudecca.) Note: Booking.com focuses on short-term rentals. For stays of a month or longer, see the links on the next page.
Before you arrive at your apartment, be sure to read:
Next page: More Venice Rentals